Rachel Comey Made a Zine With Essays by Zadie Smith and Sheila Heti
Rachel Comey launches a print publication with essays by Zadie Smith and Sheila Heti.
---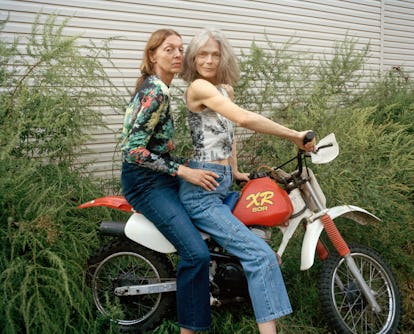 Photo by Yelena Yemchuk
This week, the New York designer Rachel Comey opened her first pop-up outside the United States, taking over a storefront in Paris's Marais neighborhood during the final days of Fashion Month.
To celebrate the pop-up and the launch of her spring 2020 collection, Comey—never one to shy away from putting her own spin on the usual way of doing things—created the first edition of what might eventually become a biannual zine.
Printed in an edition of 500 on matte recycled paper, RC 01 is part lookbook, part mood board, and part chapbook, with photographs of the models Jutta von Brunkau and Birgitt Doss wearing Comey's designs interspersed with essays by the writers Zadie Smith and Sheila Heti.
Comey approached Haidee Findlay-Levin, an editor and stylist with whom she had worked on some of her earlier shows, to guide the process.
"We focused on this idea of introducing Rachel's clothes to a new French audience," Findlay-Levin said, speaking on the phone from the set of another Rachel Comey project. "It's such an intrinsically New York brand. We wanted to get that across—all the things that we love about New York without it being too literal."
A painting by Howard Podeswa of his partner, Joy Walker's, paper sculptures spreads across the cover, followed by a brief explanation of the artists' collaborative practice by Leanne Shapton. Findlay-Levin says this idea was central to their concept: "We're translating something from New York to Paris."
"We loved what Zadie had written," Findlay-Levin says of Smith's essay "Under the Banner of New York," which was previously published in the New York Review of Books. "She captured the essence of New Yorkers and how they go about their days. As independent as they are, they can still find the time and energy to look after each other."
Smith's essay also includes a mention of a denim jumpsuit—not an explicit Comey reference, but a nod to one of the brand's signature pieces.
Heti's essay is a previously unpublished excerpt from Alphabetical Diary: Sentences From 2001 to 2010. It's light, rambling, funny poetry: Subject matter ranges from reading advice ("Read Lispector. Read philosophy. Read Radiguet on the train ride home"), to marriage advice ("Curiosity is not a good reason to get married"), to meditations and reflections on writing, friendships, and living.
In a series of photographs by Yelena Yemchuk (Hanna Tveite also contributed more traditional lookbook imagery), Doss and von Brunkau hold expressive dancers' poses while riding dirt bikes, lounging in a camper van, and splayed out in a shaded garden belonging to a friend of Comey's in upstate New York, a choice that Findlay-Levin says was meant to highlight the "American-ness" of Comey's clothes in particular.
"They're really strong and feisty women who happen to be older," Findlay-Levin says of the pair. "They both have the attitude of a New York survivor."