It's Rachel Sennott's World — We're Just Living In It
Photographs by Nick Sethi
---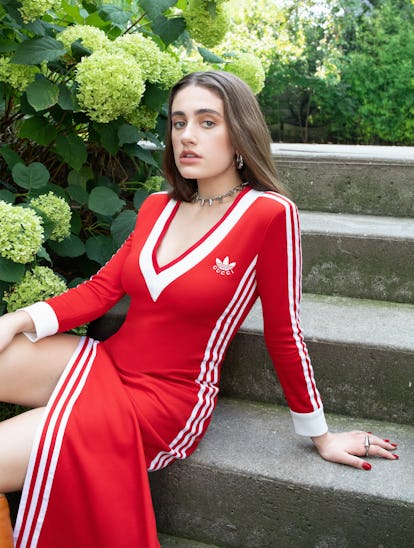 I sat down with Rachel Sennott the day after her latest film, Bodies Bodies Bodies, premiered in New York, her eyes faintly darkened with mascara lingering from the previous night's red carpet event. "I swear I showered," she laughs, chipping away at the constructed, glamorous image of what it means to be an "actress" with her signature blend of humor and realism. She's just been fitted in Gucci's Exquisite collection for this feature, a sartorial pair that feels very natural given the brand's tendency to play with reality, using fashion as a mirror to enhance (and distort) glamor.
Sennott, similarly, uses clothing as a tool to intensify the personas she channels via her online videos (which she still creates, despite having a major network sitcom and two full-length feature films on her resume). Living in Los Angeles now, Sennott – whether she likes it or not – seems to be soaking up the old Hollywood energy that has launched (and crashed) a thousand acting careers. And now, as Bodies Bodies Bodies hits international theaters, she's poised to step into the movie star role she was born to play.
Brynn Wallner: How are you feeling, now that Bodies Bodies Bodies has hit the big screen?
Rachel Sennott: I feel pretty good, but a little overwhelmed from all the premieres, honestly. Working on a film… it's this weird thing where you do something in a bubble, and then a year goes by, and then everything starts to happen when the project is released. It's been very special going through this process with the cast, though, because I really love them. It's been nice to celebrate with each other.
BW: You guys are like sisters now.
RS: There was some trauma bonding going on during the filming of the movie [laughs]. Something about the water… the rain machines and the blood. I'll never be able to see rain in another movie without imagining how cold the actresses are – I mean, they're shivering. There were lots of intense scenes in the movie, so we bonded very quickly while shooting. And, honestly, we needed it. We had to be like, I love you because we're going into the storm together. But, you know, it's part of the job!
BW: You're a movie star! Would you say you dress like one?
RS: Well, you tell me! [laughs] I'm currently revamping my wardrobe. During lockdown, I went through a bit of a panic over my closet… I was stuck with all of these clothes that didn't feel quite like me anymore. I realized that I had changed a lot, along with fashion in general. I wound up only keeping a selection of pieces from the '90s that belonged to my mom, pieces that have withstood the test of time. Plus, a few core pieces that I experiment around.
BW: How would you describe the direction you're trying to go in with your personal style?
RS: Well, I'm trying to shop vintage. And I like to go a little camp. I'll serve a boob, you know? But I am feeling more mature, so I'm going for looks that are not casual, really, but looks that I can feel comfortable in no matter what kind of mood I'm in. Something that will make me feel beautiful and elegant. I don't always have to be going full out there all of the time.
BW: But I feel like the outfits in your online videos… they're out there. But in a way, that is part of the narrative. Your on-screen looks seem to complete the character.
RS: Yes, especially in the videos I put out during the pandemic. I was really trying to feel productive then because there was so much of my career and life that had been going in one direction, which all suddenly felt stagnant. So, all I had were my clothes… or my little sister's dance costumes, or my mom's wedding dress. These looks would inspire videos, like me wearing a bikini pushing a lawn mower and yelling out to my sisters, "who's gonna film this?" I was working with the material that I had.
BW: Were you always the sister who was performing and pulling looks?
RS: You mean, was I always this annoying? [laughs] I'm one of 5 siblings in my family, and I would always force them to perform in these little plays that I would direct and star in. I was like, everyone, come on, play meeting now! I would call rehearsal at any moment, without any warning, knocking on everyone's bedroom doors. I would make them sign contracts, swearing that they'd behave and listen to the director. With so many kids in one house, everyone's always just shouting over each other.
BW: Has your sense of style changed since moving from New York to Los Angeles?
RS: The thing is, in New York, you can leave your house in a look. It doesn't feel weird because you're around so many people, and those people will see what you're wearing. But in LA, it sometimes feels silly to put on a good outfit, and you have to be proactive about it. You're in your car, then you get out for two seconds, then you're back in your car again. It's easy to feel comfortable not putting yourself together… but you can actually get creative with how messy you want to look. The run to the grocery store is actually a moment. Like, how off the rails can I look to buy, like, oat milk?
BW: Do you feel the weight of the entertainment industry more intensely in LA?
RS: I feel like I cannot sit down to dinner without overhearing a general meeting next to me. Someone will say a name, and my ears will perk up, like, I know that person. LA is the best when you're working and leaving, and then you come back to rest, to hang in your backyard, to make dinner. The project I'm currently working on has made me appreciate the city, with its history and its beauty. Los Angeles has its own kind of charm that I've learned to appreciate.
BW: It seems as though living in Los Angeles as an actress is a very particular experience. These Gucci clothes very much fantasize upon that image of old Hollywood. Do you feel this spirit? Do you look to the actresses that came before you to inform your craft?
RS: There's something about Hollywood that will drive you insane, which is good for acting. I watched this documentary that was about a little inn here, where everyone comes if they want to make it in the business. Some people go on to be stars, and others never make it out. It's pretty depressing. But there is something in the air that will drive you crazy, and it's good to channel that. I also feel like it's easier to access the fantasy here. This city was made out of nothing… there were never any palm trees, and then all of a sudden, people were like, we're putting in palm trees! On any given day, you can just pretend to feel glamorous. You can go have a martini at lunch and convince yourself that this is your world, which is inspiring.
BW: We're all acting out here.
RS: That's right!
BW: But you're a real actress, so describe an ideal red carpet look.
RS: I always want to wear something that ties into the movie or the character I play, even if I'm the only one who's aware of it. I want to feel like there's a reason behind the look. I love how bold and sexy the red adidas x Gucci dress is. When I was younger, I had this idea of what it meant to dress sexy, which was very boobs and ass and legs and color and see-through. But, now I understand that you get to choose how to be sexy; and the color red, snugly fit, is enough. Gucci does a great job of giving you that choice, and it's fun to work around that for something as momentous as a premiere. You don't have to be who you are every day, you get an opportunity to do something different, to live the fantasy.