Salma Hayek Celebrates Spring With a Floral Print and a Split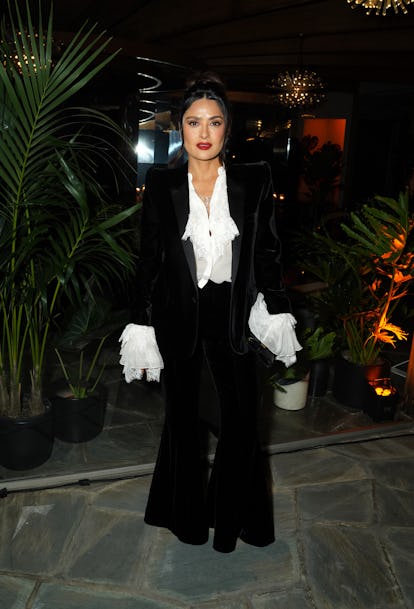 Presley Ann/Getty Images Entertainment/Getty Images
Spring has sprung in the closet of actress Salma Hayek, who debuted a floral print two-piece set on Instagram this week. Designed by Borgo de Nor, the Eden silk twill co-ord look is lined at the cuffs with long pieces of feathered black fringe. Hayek was wearing the outfit with a long pearl chain and a pair of Alexander McQueen Arc sock boots.
The foot of the sculptural shoes are made from a tightly-formed black knit, then lifted with an experimental silver heel. The boots are definitely helping Hayek with her incredible up the wall split skills. The 56 year-old actress proves she's more than limber enough should Marvel call again.
"Me waiting for Spring, thank God it's here!," Hayek wrote in the caption. "Yo esperando la primavera, ¡gracias a Dios que ya está aquí!"
The celebratory seasonal photos were taken in a dark hallway, but it is more of a boudoir ensemble than fashion you'd run through a field in. Still, her sentiment was very well received on social media, because everyone is desperate for some sunshine and flowers this time of year.
In a recent interview with Chelsea Handler, Hayek talked about one the most important themes of spring — love! Hayek has been married to husband François-Henri Pinault since 2009.
"I'm very happy in my marriage," she said. "This is the best accomplishment of my life, a happy marriage and a healthy family life."
Hayek has a 16-year-old daughter, Valentina, with Pinault and is the step-mom to his three other children, Augustin, Mathilde, and François. After being asked about what makes a marriage successful, Hayek said, "I think one of the clues is we don't really fight, but when there's a little challenge, or when somebody messes up, we never examine who to blame. We completely focus on how to solve the problem…Congress should really listen to this love story."