The Designer Crafting Couture-Worthy Gowns On His Own Terms
With his label Standing Ground, Michael Stewart offers up eveningwear that blurs the line between ancient and futuristic.
Photographs by Charlie Gates
Styled by Tallulah Harlech
---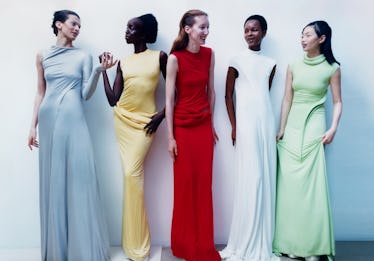 Smilla Herbst, Riam, Foran, Quaye, and Chunjie Liu wear Standing Ground.
Michael Stewart isn't into mood boards. "I'm not one for putting hundreds of images up; it does my head in," says the designer. Instead, there's just one black and white picture in his small studio in East London, tacked on a wall just over the shoulder of a mannequin pinned with a sweeping white gown. It's of a dolmen—a Neolithic tomb—in Donegal, Ireland. A giant flat rock is propped up on two others: a piece of what Stewart calls "pure elemental design," or a fragment of an ancient culture that has somehow survived, and that is able to generate awe thousands of years later.
There are standing stones throughout Ireland, including in County Clare, the rural western area where Stewart grew up. They set the tone—and inspired the name—for his label, Standing Ground. Stewart uses jersey to create dresses that make the wearer feel like the statuesque leader of some lost civilization: gorgeous, but also uncanny, at once ancient and futuristic. "This is pleated, but it also looks like a spinal column or something from a science-fiction movie," he says, touching a seam that extends almost like a prehensile tail on the dress on the dummy. "It's pretty and sexy, but it's a little off, as well, and that pleases my eye."
It has also pleased the eyes of model Jourdan Dunn and actresses Ellie Bamber and Naomie Harris, all of whom have worn Standing Ground on the red carpet to spectacular effect. Stewart had his first show at London Fashion Week last fall, as one of three new designers picked by Lulu Kennedy, the founder of Fashion East, an incubator that showcases emerging talent. (Kim Jones and Craig Green have been previous beneficiaries.) "I thought, This is the real deal," Kennedy says of Stewart's work. "It's interesting and unexpected."
Michael Stewart, the designer behind the upstart label Standing Ground, in his own clothing and accessories.
Models Nyaueth Riam and Grace Quaye wear Standing Ground.
Model Riam wears Standing Ground.
Model Lorna Foran wears Standing Ground.
Stewart graduated from London's Royal College of Art in 2017. "I wanted to get a job at a couture house, to work at a place where I could push my skills and learn from a master designer, but that doesn't really exist anymore," he says. Stewart ended up founding his own label, but it wasn't until he was picked for Fashion East that he became a part of the industry. "I was very close to walking away from it," he admits. After his 10-look presentation last September, he was inundated with interest.
Every piece Stewart creates is made to measure. He is meticulous about his garments being perfectly fitted and finished, something that sets him apart from many of his peers. "The tradition in London is that it's punk and raw and sloppy, and I detest that with a passion, because what's the point?" he asks. "It's too easy to be rock 'n' roll."
He is also insistent that everything be made with his own hands. On his pattern-cutting table, next to the computer playing the Norwegian ambient composer Biosphere, is what looks like a curved silver bone. It's a piece that goes around the wearer's waist, accented with the tendrils Stewart's dresses often feature. "I sculpted it in clay and then made it in fiberglass and resin," he says. "It was painted, sanded, and then chrome-finished. To me, there's a lifeless quality to a 3D-printed object. I really have a problem with it." Don't hold your breath for him to do a collaboration, either. "That wouldn't be my design," he says. "That's someone else's work."
Model Grace Quaye wears Standing Ground.
Model Smilla Herbst wears Standing Ground.
All this means that Stewart doesn't expect to sell his work in stores. His intention is to build up a roster of private clients who will appreciate the exquisite details, the hidden, hand-finished seams, the fact that the dresses have been customized to flatter the contours of their bodies. Kennedy believes that this couture-adjacent path is financially viable now that it's easier for designers to sell directly to clients. "The days are over when fashion designers come back from Paris in tears because a department store didn't buy them—it's about resilience and DIY," she says. For Stewart, mass production would entail an inevitable reduction in quality and—since stores take a hefty cut—in his profit margins.
"If I do 10 beautiful pieces in a year, that's so much more fulfilling than doing 200 pieces that go to stores," Stewart says. "I like beautiful things that flatter the body and have a gorgeous line that flows. That's the most important thing to me—beauty, with a strangeness to it."
Makeup by Thomasin Waite for Hourglass at Julian Watson Agency; Hair by Sophie Jane Anderson for L'Oréal Pro at Future Rep; Manicure by Sabrina Gayle for Personality Tools and Artistic Nail Design at Arch The Agency; Set Design by Julia Dias at Canvas Represents; Casting by Michelle Lee Casting; Production by Canvas Represents; producer: Daisy Bendel; production assistant: Georgia Faye Williams; Photography assistants: Federico Giocco, Sam Dearden; Hair assistant: Jess William; makeup assistant: Mari Kuno; set design assistant: Mick O'Connell; Models: Chunjie Liu at Storm Management; Grace Quaye at Next Models; Lorna Foran at Fusion NY; Nyaueth Riam at Milk Management; Smilla Herbst at Supreme NY.