Victoria's Secret Angel Stella Maxwell Has Some Valentine's Day Tips for Single People
The model shares her favorite love songs, movies, and more.
---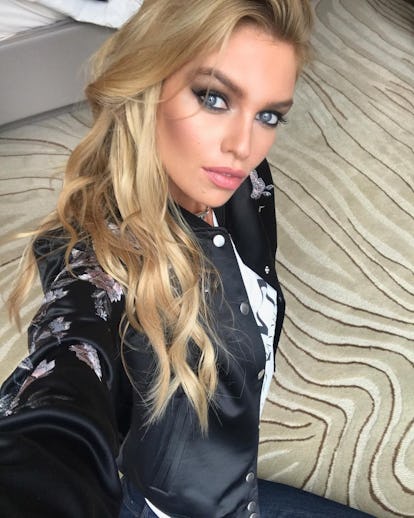 @stellamaxwell
Even if you don't have a romantic partner on February 14th you can still partake in the festivities—just ask Victoria's Secret Angel Stella Maxwell, who spent her favorite Valentine's Day so far with some close friends. "If you find yourself alone this Valentine's day and it's hurting your heart, just get together with some friends and smile and laugh," Maxwell says. "Celebrate yourself; make it a 'me day' instead of 'V-day.' Love will find you in one way or another. Always believe that. I believe you attract people with energy and confidence. When you are in a good place with yourself good things come to you. Keep a smile on your face and keep your heart and mind open." While Maxwell herself will be plenty busy with New York Fashion Week on Wednesday, the model, who happens to be dating Kristen Stewart, took the time to break down her favorite love songs, movies, and more.
What are your plans for Valentine's Day this year?
Valentine's Day always coincides with fashion week, so I will be on the road. I would say it will consist of a nice bath, some candles and and FaceTime.
What type of lingerie makes a good Valentine's Day gift?
That is a tricky question because lingerie is so personal. I think the VS store has a little something for everyone. They have the new Victoria's Secret T-Shirt bra that is a little more casual and comfortable or if you are looking for something a little sexier, the Dream Angels Wicked Unlined Uplift Bra is perfect.
What is your ideal date?
Let's start with a nice day in nature, maybe a hike or a stroll through the park, followed by a glass of wine outdoors. That can lead into a nice light meal and perhaps some live music. I love seeing the symphony play at the Hollywood Bowl. It is beautiful listening to music under the stars.
What is your go-to date night outfit?
That depends which date it is; if it's the first date, I would say sexy but subtle. If it's a second or third date for sure turn up the volume a bit with a Victoria's Secret bodysuit and a leather jacket. And if it's a long-term relationship date, then jeans and a t-shirt.
What is your favorite love song?
"Fade Into You" by Mazzy Star.
What is your favorite romantic movie?
Breakfast at Tiffany's or A Streetcar Named Desire . It's a tie.
What was the best date you've ever been on?
When I was young, a friend took me to a frozen pond. They had put lit tea candles everywhere in a big circle and set up a little record player with speakers powered from a car battery. They turned on Under the Milkyway by the Church and we ice-skated. It was so beautiful.
What was your best Valentine's Day?
My best Valentine's Day was a few years ago. I was with a group of friends, and at the time we were all single. We sat around and played board games and told stories about dumb dates we had been on. It was so funny and sweet.
What is your favorite famous couple of all time?
I have to say Samantha and Jake in Sixteen Candles, aka Molly Ringwald and Michael Schoeffling. That kiss on the table over the cake— I mean, come on. If that scene doesn't get you then what will? If you haven't seen the movie, please watch. I also recommend Pretty in Pink and Some Kind of Wonderful. So much love for the '80s.
Who would be your dream Valentine's Day date?
My dream Valentine's date would be with someone I love in my arms, my doggie Tripp by my side, and my children all around us. Obviously that's a reference to future goals.
Related: Phoebe Tonkin on Sharing Clothes with Stella Maxwell, and Saying Goodbye to The Originals