Suki Waterhouse Wore a Piece of Fendi History at the 2023 Met Gala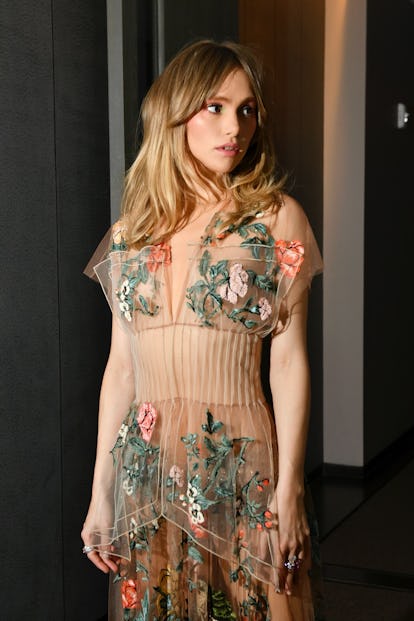 Craig Barritt/Getty Images for FENDI
Suki Waterhouse's Monday afternoon consisted of a facial treatment, consuming some chocolate-covered strawberries, listening to Nancy Sinatra, and making a TikTok riffing on Karl Marx's The Communist Manifesto. This is the pre-Met Gala routine of the actress and musician, who has gained quite the following on the short-form video platform for the peek she provides into her glamorous life—and for her quippy, high-brow humor that isn't afraid to, say, conflate designer Karl with philosopher Karl.
"TikTok is nice because it's a humorous platform with an unhinged tone compared to Instagram," Waterhouse tells W over the phone (post-facial, but pre-TikTok). She seems at ease, ready to take on the Met Gala red carpet in mere hours—perhaps because this isn't her first rodeo (she attended back in 2014), or maybe due to the fact that this time, she hit the carpet on the arm of her long-term boyfriend, actor Robert Pattinson.
Her laid-back mood could also be as a result of the confidence she felt in her look for the evening. Waterhouse took on the Met steps Monday night in a sheer silk tulle dress, covered in embroidery depicting colorful flowers and a large pheasant. The piece hails from Fendi's spring 2019 collection, Lagerfeld's penultimate for the brand, and the final presentation for which he was alive. For Waterhouse, that last fact is one of the reasons why she picked the dress. "When it dawned on me that spring 2019 was one of his last collections, I instantly became drawn to it." Below, Waterhouse discusses her own experiences with Lagerfeld, her beauty inspiration for the night, and the one Succession star she really wanted to see on the red carpet.
What does the theme, "Karl Lagerfeld: A Line of Beauty," mean to you?
When I think of Karl, I think of him as the fashion industry. He represented fashion to me, and getting to be around him was the highlight of any of my experiences working in fashion. Over the years, I was able to spend time with him, usually at parties and events. I always found him to be incredibly funny and cheeky and naughty.
Tonight, I'm wearing Fendi, and Karl and Fendi have the longest-lasting relationship between a designer and a fashion house. The weight of that is incredible. His footprint is incredible.
How did you land on this dress specifically?
Do you know what? It was very easy for me. I think I saw three dresses, and it wasn't even a question. The other two were also incredible—maybe more classic Met Gala dresses than the one I chose—but I just feel drawn to the dress' femininity. I think it's the craftsmanship of the embroidery that draws me in. I wanted to exhibit that because Karl was known for redesigning and reinterpreting, but also just unbelievable craftsmanship.
What are you thinking hair and makeup wise?
I keep putting on the dress when I have no makeup and just-washed hair and I'm like, "I just love it." But my hair and makeup team are looking at me like, "No, girl, that's not happening." I was thinking of playing with color with my makeup. We've been looking at mood boards which include a lot of pastels—pink lips, orange and green. There's also a photo of Rihanna on there from [the 2017 Met Gala] where she had bright pink cheeks and eye shadow and then slightly bleached eyebrows. I'm loosely using that as a reference as well.
You haven't been to the Met Gala since 2014. How will this time around be different?
Now, I have a better idea of what I'm getting myself into so I don't feel too overwhelmed by the whole thing. I'm saying that now, but I'm sure at about 6 PM, I'm going to be shaking.
Who are you most excited to see inside?
I saw that Jeremy Strong is on the list. I don't know if it's accurate, but I'm praying it is. He just takes the work seriously, so I want to see that work translate into his Met Gala look.
Are you a Succession fan?
I'm a huge Succession fan. I have a watching gang, so if we're not together we have to wait. I caught up on about three of them last night.
Let's talk Daisy Jones & The Six. What has the response to the show been like?
It's amazing, being part of something like that. People come up to me on the street and say how much they loved it and how they want to watch it again and again. Even though it's about life and its complexities and there's a lot of nuance to it, it's an uplifting show; when people talk about it, they smile a lot, and I feel like it gave people a lot of joy.
What was it like for you to combine two of your passions—music and acting?
It doesn't happen very often. But it felt extraordinary because that was one of the reasons I really wanted to sign onto the show. I didn't know that, by the end of filming, I would be signed to a label and going on my own tours. I'd always been doing music and releasing it since 2016, but things came together for me and my album came together while shooting the show on hiatus.