Supermodel Tatjana Patitz Has Died at 56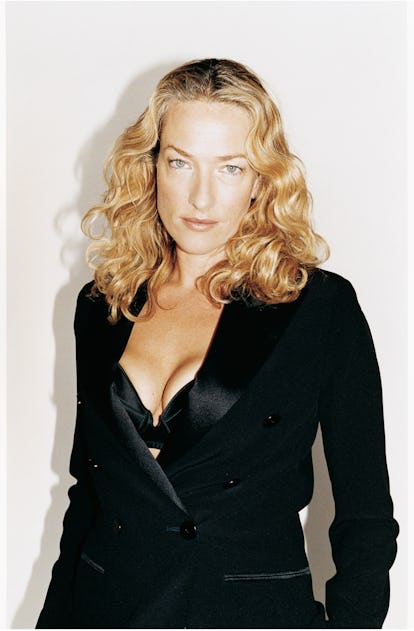 Photographed by Juergen Teller, styled by Camilla Nickerson, W September 2006
Often referred to as one of the "original supermodels" Tatjana Patitz, known for her runway and editorial work throughout the 1980s and '90s, has passed away at the age of 56, according to Vogue.
Patitz was born in Hamburg, Germany in 1966 and raised in Sweden by her father, a travel journalist, and her mother, a dancer. At the age of 17, she won third place in a contest held by Elite Model Management, and as a result, won a contract with the agency and moved to Paris to begin modeling. By 1985, she was a regular in the industry with a British Vogue cover to her name. That was also the year she began working with photographer Peter Lindbergh, with whom she would go on to collaborate with repeatedly over the next few decades. "I admire Tatjana because she always stays herself," Lindbergh wrote about the model in his book, 10 Women."She's very soft, but at the same time she's very strong and knows how to stand up for what she thinks, and it's always very enriching to be with her. It's impossible not to admire her and over the years not to be just a little bit in love with her."
Throughout the '80s, Patitz appeared in editorials in French Vogue, Italian Vogue, Elle, and many more publications as she worked with photographers like Irving Penn, Helmut Newton, and Steven Meisel. In 1987, she was shot by Richard Avedon her first cover for American Vogue. It was around this time that the idea of supermodels began to form, with Patitz as one of the original names in the group. Her success continued, but in 1989, she decided to relocate to Los Angeles in an attempt to slow down a little and be closer to nature. She continued to book editorials throughout the '90s, shooting images like Lindbergh's January 1990 cover for British Vogue alongside Naomi Campbell, Linda Evangelista, Cindy Crawford, and Christy Turlington, which helped truly usher in the era of the supermodel, and led to the group's name, "The Big Five." It was that cover, which caught the attention of singer George Michael, who then cast Patitz, along with the rest of the group, in the David Fincher-directed music video for his song, "Freedom! 90." On her own, Patitz continued walking runways, and working with brands, eventually becoming the face of Jil Sander. Patitz would go on to represent the designer for many years.
In 2004, Patitz gave birth to her son, Jonah. Throughout this time, the model also worked as an animal rights activist, as well as an advocate for HIV awareness, LGBTQ rights, and gender equality. She was very outspoken about her experience with aging, telling Sarah Brokaw in her book Fortytude, "I believe in aging gracefully because it celebrates me as a woman...I know who I am, and what I have to offer. In the end—for me, as for every woman—beauty is what one emanates. It comes from feeling good about who you are with your flaws (and we all have them), and being at peace with yourself." Patitz continued to work through the aughts, closing out Jean Paul Gaultier's fall/winter 2009 show for Hermes, and escorting Karl Lagerfeld down the runway during the finale of his 2010 Chanel cruise collection. The next decade brought with it more editorials, including a Lindbergh-shot L'Oreal Paris campaign alongside actress Andie MacDowell and models Helena Christensen, Karen Alexander, and Amber Valletta. While she didn't work quite as much in the last few years of her life, her reputation did the talking, and Patitz was repeatedly named as one of the most influential models of her time by numerous publications, with L'Officiel calling her "the most beautiful face of the decade."
Patitz will be remembered as one of the original supermodels, as well as for her contributions to the industry and her work both on the runway and in editorials. She was never scared to speak her truth and in 2019 she told 63Magazine, "I am proud of my wrinkles. I worked for each one and they belong to me. Growing older is beautiful. You become wiser and more mature. For me, giving away or changing that gift is not an option...Beauty means being a good person and being there for others. In my opinion, beauty is not only about looks, but everything that makes up a person." See below for the many tributes being paid to the late icon following the news of her death.