Vivienne Westwood's Last Bow
For fall 2023, the legendary designer's life partner, Andreas Kronthaler, created a collection that paid tribute to the impact Westwood left upon the industry.
---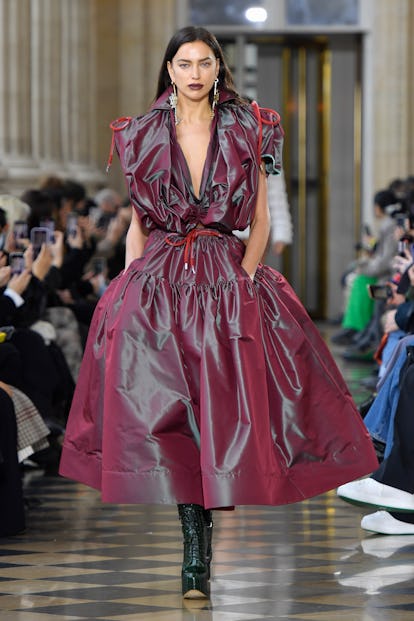 Vivienne Westwood fall 2023. Photo by Victor VIRGILE/Gamma-Rapho via Getty Images
Vivienne Westwood's fall 2023 show, held at the Hotel de la Marine in Paris, was one of the brand's most emotional yet. As the first presentation from the label since the founder's passing in December 2022, her life partner and co-designer, Andreas Kronthaler, paid tribute to the legendary designer through archival motifs that pulled from the heritage of the brand. Meanwhile, Jean Paul Gaultier, Jared Leto, and many more stars showed up in the Dame's memory—sitting front row to take in the collection.
"It is my very personal tribute to her," Kronthaler told W backstage. "I think it's a very helpful process to go through something like this. I can create a new situation for myself. But at the moment, it's just still a strange period."
The Andreas Kronthaler for Vivienne Westwood line (previously called Gold Label collection until 2016, when it was renamed) was famously a collaboration by Kronthaler and Westwood since the '90s. The fall 2023 collection is the last Vivienne Westwood collection that Westwood herself actually touched before she passed away. "She still worked on it a little bit," noted Kronthaler. "I just keep thinking of her. Will she like it or is she going to wear it? I've always made everything with her in mind."
The show opened with a blouse bearing a print of Westwood's face, paired with a mini skirt and platform shoes that took inspiration from the sky-high Super Elevated Ghillie heels that Westwood invented. House models who worked with Westwood since the beginning—like the iconic Sara Stockbridge—wore leggings and cardigans inspired from the archives, and shed tears as the show closed. The final look saw Vivienne Westwood's granddaughter wearing a corset and bloomer wedding getup while carrying a little bouquet of white flowers.
Throughout the collection, there were subtle references to Westwood's vast body of work—from takes on the corset to the tartan and tweeds. The subversive punk subculture she brought to fashion lived on through oversize outerwear and strapless, molded dresses. Here, the infamous Mini-Crini was reinvented and subverted into a longer length.
Westwood was famously an activist, and this collection bore elements of her political history when it came to the materials; the garments were constructed entirely of upcycled fabrics that otherwise would have been waste. "They're things that are too nice to get rid of," Kronthaler explained. "They're sometimes just half the meter of a really nice silk. All I could make was little hot pants, little tailored knickers. We collected antique things from the 18th century to give them a new lease on life."
In terms of what's next for the brand, Kronthaler will be moving forward at the helm, hopefully continuing to pay tribute to one of the most legendary designers of all time. But in the meantime, he'll be taking a vacation and attempting to quit smoking.
Past seasons of Andreas Kronthaler for Vivienne Westwood have shown that his own aesthetic can sometimes verge on more earthy and darker than Westwood's original look–perhaps even a bit less feminine. But here, with every piece that came down the runway, Kronthaler instilled purpose and intent to design within the Westwood frame of mind. The most important reference, however, were the billowing, big petticoat skirts worn by all genders. "She loved the skirts," Kronthaler said. "Because the way they just move around and what they do with the body. If you sit down, they take up space." The skirts were definite statement-makers and eye candy in a sea of pants and gowns. There's something deliberately fussy and ultra feminine about big skirts—it's no wonder Kronthaler associates them with Westwood. In the show notes, the final line stated: "Maybe the most important thing you ever taught me was to put the woman on a pedestal."