Willy Chavarria Sees the Bigger Picture
The designer has imbued everything from workwear to eveningwear with gravitas and originality. What will he take on next?
Written by Janelle Okwodu
Photographs by Stefan Ruiz
---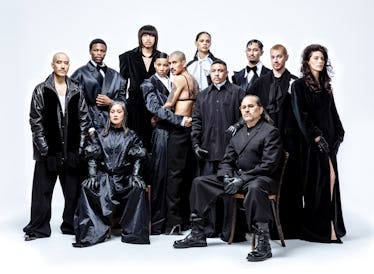 Designer Willy Chavarria (seated, right) with a few of his friends and collaborators. Back row, from left: Makeup artist Marco Castro; performer and director Marlon Taylor Wiles; models Yuji Rico and Hiandra Martinez; designer Veska Naratama; hairstylist Joey George; casting agent Kayla Mayhew. Front row, from left: Designer Joanne Cruz; models Lineisy Montero and Chachi Martinez; art director Jess Cuevas. All fashion, Willy Chavarria.
"I don't believe in limitations on what a designer can do," Willy Chavarria says. "There's a vast flexibility within my work and my future."
The child of a Mexican immigrant father and an Irish mother, Chavarria, 56, was raised in California's San Joaquin Valley, where he was a keen observer of the subtleties of stylistic expression in his community. "I didn't even think of it as fashion, but I was obsessed with how people presented themselves," he says, speaking on the phone from his studio in Brooklyn. "As I got older, I realized that you could connect with cultures and groups of people via the way you dress." Though he could document local trends in his sketchbook, Chavarria realized that if he wanted to interact with like-minded creatives, he'd have to leave home. "In that small-town environment, magazines and film become your escapism," he says. "I immersed myself in that, but I knew I would eventually have to leave and go where I could find beauty."
That search led him to San Francisco in the mid-1990s. He became a part of the club scene and found a job at Joe Boxer, the underwear label known for its smiley-face graphics and cheeky advertising. "I started in the stockroom and worked my way up," Chavarria says. "The job was a big deal for me, but it was also an incredible time to be in San Francisco. You had rave culture from the U.K., house music from Chicago, and techno converging in one area. The nightlife was incredibly fashionable and remains one of my biggest influences." That raver aesthetic pops up in Chavarria's self-titled line, launched in 2015, in the form of fluorescent knitwear and mesh tops; other important references include the loose, low-slung trousers he spotted on the streets in the early '90s.
In 1999, after a brief time in a California beach town where he traded clubbing for triathlons and worked as a designer for the cycling apparel company Voler, Chavarria moved to New York for a job at the Ralph Lauren line RLX. He spent five years there, designing hip-hop–infused prep basics. In 2010, he opened Palmer Trading Company, a menswear shop in SoHo that sold vintage wares and American workwear staples like Filson and Dickies.
"I've worked in big companies, seen all aspects of how to make clothes and sell them," he says. "When I started my brand, I understood that was my opportunity to do something personal. At one point, I didn't even know if the brand was going to be clothes. I just knew I wanted to use my work as a catalyst for positive change."
Chavarria's breakthrough "Harder" collection, for fall 2017, encapsulated that ethos. Drawing inspiration from activist organizations and iconic moments of civil disobedience, he referenced the Black Power Movement, Transgender Movement, and El Movimiento Chicano in T-shirts emblazoned with phrases like BROWN POWER, and layered pieces meant to echo the streetwise styles of El Barrio. The message was amplified by the casting: By mixing established models with muses from all walks of life, Chavarria hammered home the idea that his clothes were for everyone. "In fashion, we're used to seeing people make something simple look expensive because they come from privilege," he says. "It's much more interesting to put those pieces on 'normal' people and see them carry the clothes with the same sense of ownership and authority."
From left: Rico, Cuevas, and Taylor Wiles in looks by Willy Chavarria.
Chavarria in his namesake designs; his own glasses and jewelry.
Shown during the early days of the Trump presidency, Chavarria's collection, with its overt political stance, caught the attention of the fashion establishment. "Willy's clothes speak to the culture and the times that we live in," says Steven Kolb, the chief executive officer of the Council of Fashion Designers of America. "He cares about his community, and the way his work represents his heritage and upbringing resonates with many." Among his fans are big-name stars like J Balvin, who sat front row at Chavarria's fall 2023 show. "What I love about him is his ability to create true and raw beauty in multiple ways," Balvin says. "He's giving the world the finer things in life without fashion world stereotypes."
Spring 2018's "Cruising," presented at the iconic gay bar the Eagle, embraced queer culture, exploring the leather scene of the '80s and '90s through flat caps and black motorcycle jackets. Fall 2021's "Real Men" challenged gender tropes through exaggerated proportions and a collaboration with the artist Sad Papi on a run of graphic tees that instantly sold out. At around that time, Chavarria was tapped as senior vice president of design at Calvin Klein—a job he continues to hold while designing his own line.
For his most recent collection, dubbed "Kangaroo," Chavarria changed tack, eschewing cultural commentary. "I want to be recognized as an excellent designer," he says. "I don't always want the discussion to be about politics or how my models differ from what other people are doing. This time, I wanted the narrative to be about the clothes, and I figured the best way to do that was to make a beautiful eveningwear collection. It felt timely to pare everything down to all black so that the focus was entirely on the silhouette. It's luxury, but it's also sustainable; we're using the best in recycled materials." Chavarria worked with textile supplier Recyctex to incorporate elements like upcycled yarn into his collections. "You can have the level of refinement you associate with top-tier fashion while using materials created from plastic waste."
Stepping outside of his comfort zone is a primary source of motivation for Chavarria—we can expect plenty more twists and turns from him. "Just because I'm expanding what I do doesn't mean that eveningwear is the future of my brand," he says. "I needed to take a breather. There was a time in my 40s when I'd worry about staying relevant, but it's easier to evolve when you're older. It's easy to be edgy now and take those risks."
Hair by Joey George for Bumble and Bumble at MA World Group; makeup by Marco Castro for MC.World at Born Artists; models: Chachi Martinez, Hiandra Martinez, and Lineisy Montero at Next models, Marco Castro, Joanne Cruz, Jess Cuevas, Kayla Mayhew, Veska Naratama, Yuji Rico, Marlon Taylor Wiles; casting by Michelle Lee casting; photography assistant: Patrick Lyn; fashion assistant: Tori López; hair assistant: Harley Beman; makeup assistant: Jianqiao Lu.