Yohji Yamamoto's Never-ending Story
A rare conversation with the legendary designer, whose vision has taken on new resonance in today's fashion landscape.
---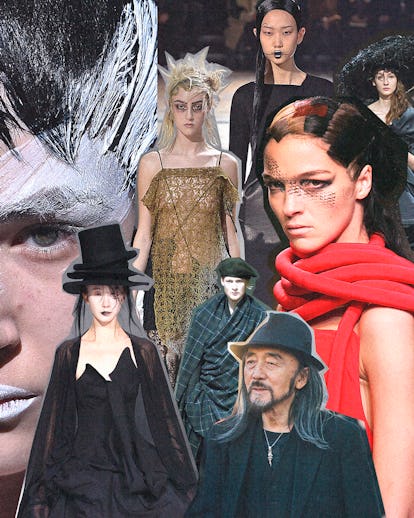 Collage by Ashley Peña
A few days after Yohji Yamamoto's fall 2023 womenswear show at the beginning of March, Paris suddenly fell quiet following a blockbuster week of fashion shows. Most of the fashion crowd had left the city upon Paris Fashion Week's close—but Yamamoto, who is based between Tokyo and the French capital, remained. I meet the designer, in all his enigmatic glory, chain-smoking cigarettes while drinking black tea at a small table tucked behind glass doors in the Hotel Costes lobby. There he sits—wearing, of course, his signature black hat and one of his own deliberately oversized black suits.
It's rare for Yamamoto to do an interview at all, as he typically avoids chatting with press after his shows and rarely speaks candidly. Instead, he tends to offer symbolic platitudes of overarching themes in short spurts. But the designer is also known to throw in a surprise every now and then. He is the rare sort of artist that even people of all ages who don't follow fashion know; the kind of legendary figure who's become a symbol in the annals of fashion, a torch in the canon of style. He's worshipped at the altar of archive fashion and respected by generations young and old for his fashion high (runway) and low (Adidas Y-3). "I never follow rules. I like to break them," he says matter-of-factly, eyebrows raised. His tone is profoundly quiet, and he leans forward to speak at almost a whisper level, with soft mannerisms and even more impeccable manners. "I'm not a rebel, I'm a crime."
Looks from Yohji Yamamoto's fall 2023 Paris Fashion Week show.
Photo by Dominique Maitre/WWD via Getty Images
Photo by Dominique Maitre/WWD via Getty Images
Photo by Victor VIRGILE/Gamma-Rapho via Getty Images
Photo by Victor VIRGILE/Gamma-Rapho via Getty Images
Yamamoto's unique way of speaking is heroically slow, but totally impassioned. He often takes pauses so long that I accidentally interrupt him (on more than one occasion). It's a rarity, especially in today's world of designers who pepper their answers with PR language and overly prepared, meaningless words. During our nearly hourlong interview, Yamamoto refers to things he hates 11 times, but still comes off as less of a cynic and more of a storied and enchanted character who'd journeyed through decades of fashion.
Some 50-odd years since starting his career, Yamamoto, now 79 years old, still leads his namesake brand, in addition to making music. He's opening new stores in Taiwan, London, and New York (the latter of which is coming soon) for the first time in years. It seems like everywhere I go, there's a new Yohji Yamamoto store, I tell him. "I feel terrible," he replies. "Because it means I have to continue to work." Will he have a successor? "As long as I'm around, the brand will be forever," he answers. "Fashion is the last chance, the last capability for how I can work and where I can come from. I'm tired. But when I finish one collection, I don't make myself go any other way."
Any talk about his potentially stepping down doesn't detract from the recent widespread attention Yamamoto has received from a new generation of collectors and enthusiasts. Call it a "Yohji-ssance," if you will, with millions of views and active discourse on his work all over TikTok and Instagram. Many of his contemporaries, from Vivienne Westwood to Karl Lagerfeld, have received their fair share of retrospectives and praise (Comme des Garçons's Rei Kawakubo even received her own Met exhibition in 2017), but Yamamoto has felt more under-the-radar in that respect—until now. Many of the great Japanese designers from his generation have passed on: Issey Miyake, Kansai Yamamoto, Kenzo Takada. Still, he finds thinking about all that boring. Keeping personal archives of his work and showing them off on TikTok? "It's ok. I don't mind," he says. But "you don't need to wear all my outfits from head to toe. It's boring for me." Clothes in a museum? "That's so boring to me." And as for all the young fans on the Internet? He slowly pulls his phone out of his jacket pocket and points to it. "I'm a very bad man. I don't use Instagram."
And yet, as twisted workwear, big suiting, and extreme deconstruction are coming back into fashion, it's no wonder it feels like there's a sudden spotlight on Yamamoto's womenswear. Looking at the fall 2023 collections, one can feel Yamamoto's influence everywhere—whether in the oversized suiting, the purposely mangled and distressed fabrics, the undone hemlines, or even the dark and stoic focus on all-black. Yamamoto grew up with a single widowed mother, and perhaps that's what makes his womenswear so effective and yet so radical all at once. He may just be the original male designer creating for women without the male gaze. Rather than expose the body through the prying eyes of the opposite gender, he masterfully crafts tailoring that's akin to sculpture—shielding women's bodies from aggressors. His clothing feels protective and powerful without creating the damsel-in-distress effect. Women have always been at the center of his design universe, his mother serving as the first light of inspiration. And that lineage continues: before he sits down for this interview, he's accompanied by both his daughter and granddaughter.
Even as he approaches 80 years old, Yamamoto is thinking about how to shift the narrative of clothing for women. "Next collection for women, I will try a 17th-century or 18th-century European concept," he says. "I hate it. I want to change it, because at that moment, women and girls were treated as dolls for men. I don't like it."
And that's just the point. Yamamoto has always reinvented clothing for women as powerful reclamations. He starts to trace an hourglass figure with his hands in the air between cigarettes and sips of tea. "When I look at women's bodies, I feel like I'm traveling in the desert," he says. "At the beginning, when I was young, I was studying a lot from tailoring, but it became so boring. I often suffer from women's corsets. I hate them, but sometimes I start with a corset which I can move or relax for women. So in that way, I've twisted it."
Born in Tokyo, he graduated with a law degree from Keio University in 1966, but quickly became bored by the world of law and order. So he joined his mother at her Shinjuku dressmaking shop, learned sewing and tailoring techniques, and eventually enrolled in Japan's famed Bunka Fashion College. He presented his first collection in Tokyo in 1977, followed by his first Paris collection in 1981. A sea of black clothing, the latter collection consisted of elegant deconstruction and aged fabrics. Flat shoes, undone hemlines, and unraveled seams made for a brand-new aesthetic that favored darkness and looseness over opulence and formality. By the mid 1980s, the designer had opened his first shop in Paris. "I was walking around the city, and so many ladies and women were wearing colorful clothing," Yamamoto says of his early obsession with the color that would become his signature. "It bothered me and my eyes. So I just started with black. Everything started from there."
Black is deeply ingrained in Yamamoto's work and persona in a manner that's unlike any other brand. The label currently shows four times a year in Paris, including the designer's men's and women's shows. To him, Paris feels intrinsic at this point: "They need me," he says. His fall womenswear 2023 show opened with a model wearing a draped and deconstructed coat to the tune of Yamamoto himself singing Leonard Cohen's "I'm Your Man." "After so many years fighting with black fabric, this time, I wanted to find a new charm to the surprise of black fabric," he says. "Every time, I do. Last collection, I used strong red, so that is the reason why I wanted to make black strong. Can you find some other color that can compete with black? Red is the only color."
Still, when the designer launched his brand in Paris initially, the fashion press was shocked by the idea of luxury fashion steeped in black. All those holes, frayed edges, and imperfections eventually gave way to technical flannel folds, extreme asymmetric-cut bias and blossoms of chiffon and tulle poufs on coats and skirts. "When people wear black, it's for a special occasion—it's for when people come together. Black is sad," he adds.
For Yamamoto, luxury has always come down to simplicity. But he's by no means a minimalist: "To become a minimalist is too easy," he says. "Luxury is when white and black are fighting or talking together. It is very delicate, but strong." And beauty itself, he adds, is haunting: "For me, beauty is chaos. Because of the totally refined, selected, and protected creation of it. You can talk about building Rome, but it's boring. The charm, the excitement; it comes from chaos."
Looks from Yohji Yamamoto's fall 2011 collection.
Photo by Julien Hekimian/Getty Images
PIERRE VERDY/AFP via Getty Images
Is Yamamoto speaking to the original idea of quiet luxury or in turn, subverting status? (His masterfully tailored suits often fetch four figures, even with their rips, holes, and fraying.) Certainly, one thing you'll never see in his main line are logos. "I hate logos," he says. "But I don't want to talk about it, because of other designers. We have to be fair." If he could only work with one material for the rest of his life, he says it would be washed cotton mixed with viscose.
There are so few designers left from Yamamoto's generation who maintain control of their brands and actively design as creative director, but Yamamoto still insists he doesn't have a typical design process, even after all these years. He doesn't apply trends to his brand and he doesn't plan collections based on forecasts or what's happening culturally. "I don't care about the creative process," he says. "We're challenging the new process. We have to find a new process, because new processes sometimes show me ugliness." He doesn't find it hard to keep churning out ideas 50 years later, either. "Every time I start designing, I'm looking for something I am excited about," he says. "But from my side, exciting ideas don't come. When I'm driving my car in the street, the light turns red. I stop with many people around and inspiration comes. You have to always be ready to catch new motion passing in front you."
Looks from Yohji Yamamoto's fall 2006 collection.
Photo by Giovanni Giannoni/WWD/Penske Media via Getty Images
Photo by Giovanni Giannoni/WWD/Penske Media via Getty Images
Photo by Giovanni Giannoni/WWD/Penske Media via Getty Images
Photo by Giovanni Giannoni/WWD/Penske Media via Getty Images
Working in the industry for nearly half a century means everyone is looking for legacy—but Yamamoto tends to think about this idea differently. "Legacy means you have to be carefree, and you have to bring ideas forward. I hate it. There is so much cheap modern art and so much cheap, casual, ready-to-wear. I just want to be working my way." When asked what's next for him, he laughs. "I don't know. I have no idea." The things that bring him joy these days are reading and composing music, but most of all, the fittings for each new collection. "Sometimes the patternmaker shows me a kind of surprising fit," he says. "It's like whoa, I'm lucky."
With his history of taking men's tailoring techniques and turning them on their head for women, some might be quick to compare Yamamoto's clothing to art—especially his early work. Yamamoto and Kawakubo came up as the dynamic duo of Japanese designers taking Paris fashion by storm in the early '80s, both marketed as avant-gardists. But he simply doesn't believe clothing is anything more than just a garment. "No, it's just clothes," he answers, delivering the quickest response of the interview so far. But he doesn't think about how people dress in their day-to-day lives when dreaming up each new collection. What he has in mind, instead, is the idea of how clothing can make you feel: "Special, strong, crazy, dangerous. And I enjoy it. I'm a craftsman, not an artist," he says.
The only rule the famous rule-breaker follows is a firm one: He never, ever looks back to the past, even if his design lexicon feels like an epic, never-ending story. "If I look back, the new creation becomes boring," he says. "Because I'll say, 'That's not good, that's not inspiring.'" He doesn't have a favorite technique, signature or silhouette he's ever created either—not even the master tailoring for which he's so often praised.
"Don't look back at your life," he says, looking me straight in the eyes. "Just go forward until you drop down." But without looking back, what does the future look like for him and his brand? "Totally black," he insists, instantaneously.