How Zoë Kravitz Became the Most Effortlessly Cool Girl In Fashion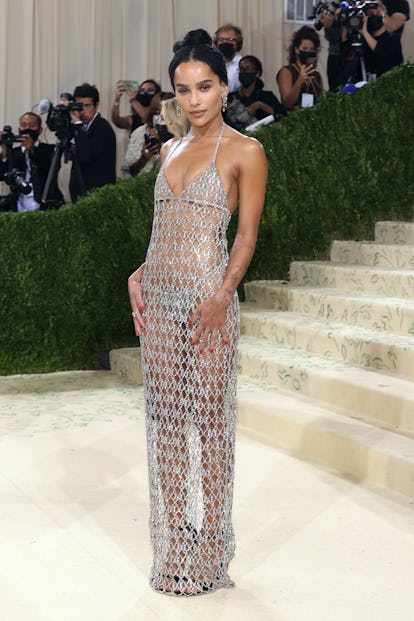 It's undeniable that Zoë Kravitz is the epitome of effortlessly cool. As she's grown up in the public eye, her style has evolved from prom-style flirty dresses to baggy jeans and a comfy cardigan — no doubt inspired by her grungy character in Hulu's High Fidelity. But as the actress' career has grown by leaps and bounds, Kravitz's style has become a must-see on the red carpet, know for her jaw-dropping sparkling column dresses and minimal accessories from bands like Telfar.
Kravitz has come to be known for her hip, rocker chick aesthetic, making her the perfect face for Saint Laurent under Anthony Vaccarello — she's starred in the brand's campaign imagery and is a front-row fixture at their Parisian fashion shows. She also created her own lipstick collection for YSL's makeup line, cementing her status as a minimal, glowing beauty queen. And in of her most dramatic red carpet moments, she wore a stunning, nearly-naked mesh Saint Laurent gown at the 2021 Met Gala that showed off her toned petite physique and fondness for sky-high strappy heels.
Still, as much of a fashion star as she is today, her sense of aesthetics is the result of careful experiments that took place over years. Here, look back at Kravitz's impressive style evolution.
This article was originally published on