Ethiopian Photographer Aida Muluneh's Body Painting Pictures Will Stop You In Your Tracks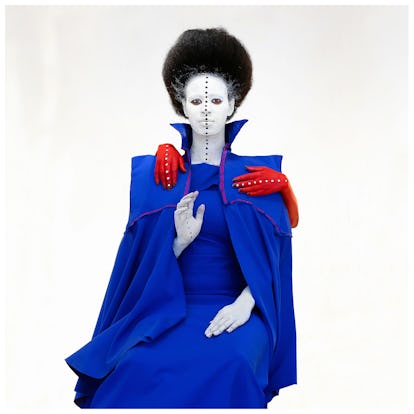 Courtesy of the artist.
Aida Muluneh's photographs are showstoppers—quite literally. Combining the shocks of color and crisp geometries of abstract painters like Frank Stella and the disturbing micro-thrills of Man Ray's fashion pictures (see: the mysterious extra pair of hands in slide 2, or the unlikely angle and skin color of the model's reflection in slide 4) with the body painting, materials, and traditions of her native Africa, Muluneh's pictures are designed to short-circuit your eye. They always stand out in a crowd, even in a group exhibition like "Being: New Photography 2018," MoMA's current survey of the photographic landscape where Muluneh's work is featured. Although she was born in Ethiopia in 1974, as a child Muluneh lived in Yemen, Cyprus, England, Canada, and the U.S.—and therefore, as she has said before, felt like an outsider everywhere. After working as a photojournalist with the Washington Post, she returned to Ethiopia to explore her heritage through her photography. Now, after founding the Addis Foto Fest in 2010, Muluneh creates African images that speak to the world.