With 3-D Printing and Scuba, Courrèges Updates Its Forecast on the Future for Spring 2017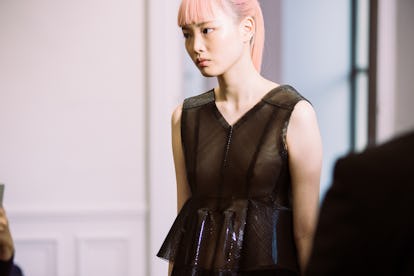 Photo by Jake Hateley.
With three collections since Sébastian Meyer and Arnaud Vaillant inherited Courrèges last year, the design duo has quickly added depth and character to the Courrèges woman. Throughout the '60s and '70s, the Parisian brand was synonymous with pioneering retro futurism; Meyer and Vaillant's challenge has been balancing the label's trademark vinyl, moto jackets, and mini skirts with a more contemporary vision of the future. Their debut collection took the simplest possible approach, showcasing painstakingly designed pieces against ivory bodysuits. The two collections since — culminating with Wednesday's Spring 2017 show — have built on and adapted those pieces. They continue to experiment with texture: there was vinyl, to be sure, as well as a two-piece suit in scuba, combined with softer silk dresses and 3-D printed peplum tops, as seen on show-closer Fernanda Ly. For Spring 2017, Courrèges is quietly updating its retro forecast on the future.