Here's How Minneapolis Showed Up for George Floyd's Memorial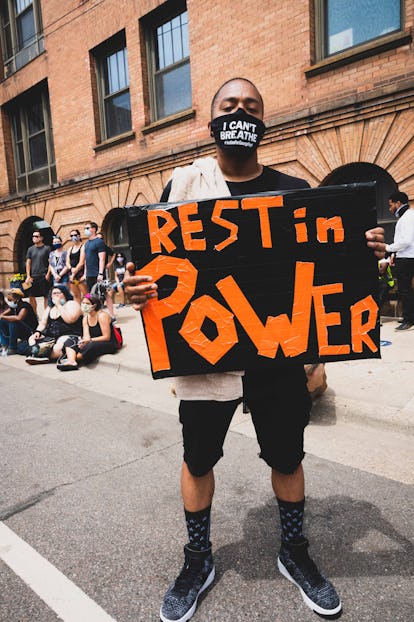 Protestors gather at North Central University, in Minneapolis, Minnesota, to commemorate the life of George Floyd and to protest police brutality directed at black lives on Thursday, June 4th, 2020. Photograph by Andrea Ellen Reed for W magazine.
Although the memorial for George Floyd, which took place on Thursday in Minneapolis, Minnesota, was closed to the public, hundreds of people were in attendance. Inside North Central University, the Floyd family was joined by Rev. Jesse Jackson, who delivered the eulogy, Democratic Minnesota Rep. Ilhan Omar, and actor Kevin Hart. The mother of Floyd's 6-year-old daughter Gianna, Roxie Washington, described him as "a good man," while his close friends remembered him as "Perry."
Outside, citizens of the Midwestern city paid homage simply by showing up, demonstrating their solidarity with the grieving family. They held signs that read "Rest in Power," and "Justice for George Floyd." Others memorialized the black man killed by former white Minneapolis police officer Derek Chauvin on their clothing: one woman wrote in iridescent blue "No justice, no peace" and "Black lives matter" on the back of her jacket. Minneapolis-based photographer Andrea Ellen Reed was on the ground, and captured moments from outside the memorial—see them all, here.