Singer, Artist, and Heiress Isabel Getty Reveals Her Must-Haves for Fall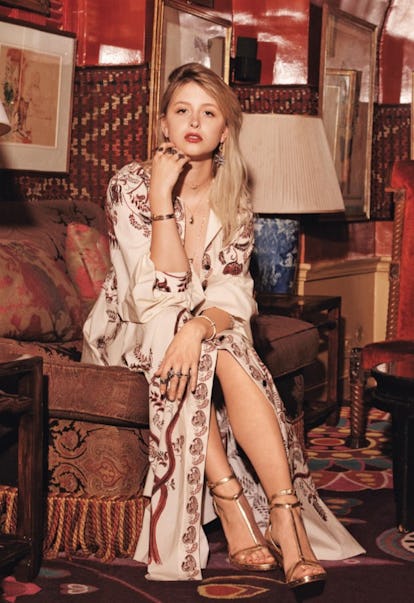 Photograph by Simon Eeles, Styled by Gianluca Longo; Hair by Alfie Sackett; Makeup by Jo Frost for MAC at CLM Hair and make-up; Fashion Assistant: Hannah Beck.
A career in the arts can be a tough sell to your parents—even if your last name happens to be Getty. "My dad was like, 'You're going to law school, right?' " says Isabel Getty, who is the daughter of Pia and Christopher Getty, granddaughter of the business tycoon Robert Miller on her mom's side, and great-granddaughter of the famed oil king Jean Paul Getty on her father's. Not quite. Instead, the 23-year-old enrolled at the Clive Davis Institute of Recorded Music at New York University, started the band Jean Marlow, and moved back home to London in 2016 to record her first EP, which dropped earlier this year. None of this should have come as any surprise to Dad, considering that Getty has been studying singing since she was 9, and fell in love with jazz at an early age. (That influence is apparent in her soulful, acoustic-backed vocals.) She is also a visual artist: Her summer show of colorful figurative paintings at Farmacy, in London, completely sold out, and she is working as an assistant to the contemporary British artist Marc Quinn. "Right now, I'm learning how to put everything together," says Getty. "I like to keep very busy—and I hate wasting time." Get her look here.