Jawara's Exhibition 'Coarse' Is a Virtual Celebration of Black Hairstyles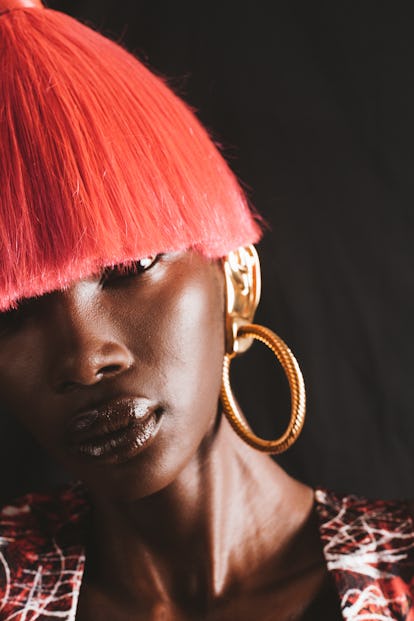 Hair by Jawara, photographed by Justin French.
"I was taught at a young age that 'hair is strength,' by my mother, who hasn't cut her hair in 43 years," the hairstylist Jawara said. "I believe that the best way to convey this truth is through beauty." The artist, who has created larger-than-life editorial looks for Megan Thee Stallion, Zendaya, Solange, and on the runways of Chanel, Hermès, and Mugler, has always worked under the credo that hair is political. Specifically, Black hair—each style is rooted in storytelling, and comes with cultural commentary on gender, class, and race. To celebrate the journey of Black hairstyle as a narrative of triumph, Jawara today is unveiling a virtual exhibition called "Coarse: The Edges of Black Ingenuity." In collaboration with the agency Art Partner, the online exhibition features photographs from both published and unpublished editorials, as well as private projects and unpublished personal works of Jawara's. Visitors of "Coarse," will be able to peruse images shot by Tyler Mitchell, Kyle Weeks, Justin French, and more—while an audio tour by Jawara guides them through the digital gallery.
When choosing the works to be included in this exhibition, Jawara said he "Thought about which hairstyles were the most performative to me and the most indicative of what I believe is the uniqueness of Black hair culture. "In this new the world that we're in, it was important to do a virtual exhibition as a way to create community—especially given the extreme acts of discrimination that we have seen against Black and Brown bodies in the United States this year," Jawara added. "After seeing this exhibition, I hope people leave with a greater understanding of Black hair culture as a form of performance, community, and catharsis. It is a means for us to celebrate ourselves as well as celebrate the unique way we do things. Black ingenuity is such a profound characteristic of people of color—it has been the force that enables us to thrive in the face of so much systemic adversity."
Browse through some photographs featured in "Coarse" and get a sneak peek at the gallery—which will be available for view until December 2020.