The Ever Stylish Loulou de la Falaise Was Far More Than Just Yves Saint Laurent's Muse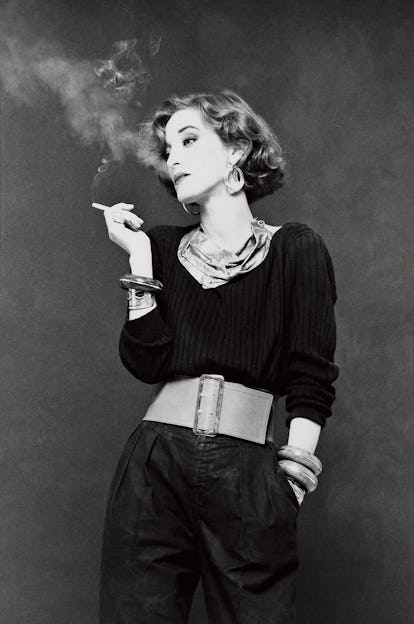 Photo by Jean-Pierre Masclet.
There was never a shortage of waifish muses wandering through Paris in the '60s and '70s, but Loulou de la Falaise always stood apart from the rest. Even when she was in her 50s, The New Yorker declared her to have "always been the quintessential Rive Gauche haute bohémienne." Born Louise Vava Lucia Henriette Le Bailly de La Falaise, in England, to a count and a former model—the latter of whom the photographer Cecil Beaton famously said was the only English woman he knew who could be "really chic in really hideous clothes"—de la Falaise was part of high society. But she was also always a hard worker. After becoming a model, designer, and editor in New York, which led her to meet Yves Saint Laurent, she moved to Paris in the early '70s to join the YSL couture team and become director of accessories. Along the way, she became a core member of his original party-hard crew. And though she passed away in 2011, de la Falaise has hardly been forgotten; she's in fact now the subject of Loulou & Yves: The Untold Story of Loulou de La Falaise and the House of Saint Laurent, a new oral history written and compiled by Christopher Petkanas, who knew de la Falaise in the '80s, and reunited with her in 2010, the year before her death at just 63. Featuring 150 original interviews, the book fleshes out how much more there was to de la Falaise than simply being Saint Laurent's muse. Here, a look back at her inimitable style throughout the years.