Surfwear Gets the Science-Fiction Treatment at Maison Margiela Spring 2017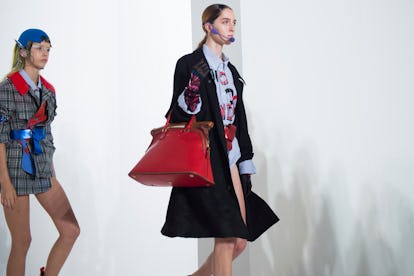 Photo by Jason Lloyd-Evans.
Spring 2017 marked John Galliano's fourth women's collection for Maison Margiela, and it seems he's finally starting to have some fun. The looks he presented laid forth a typical summer theme (or, some would say, current cultural obsession): Surfing. But under Galliano's watch, these surf bros and gidgets hail from outer space, rather than Long Island or Venice Beach. Swim cap-like headgear, knit maillots, neoprene and wetsuit zips were obvious, but headsets and ear pieces, futuristic scuba boots and metallic lips added an otherworldly edge. And when these particular aliens are ready to come in from the beach, there were also pretty plaid skirt suits and dresses, plus practical outwear in soft pastels. Photographer Jason Lloyd-Evans captures the show, here.