A Tour of Mandy and Cliff Einstein's Incredible Art Collection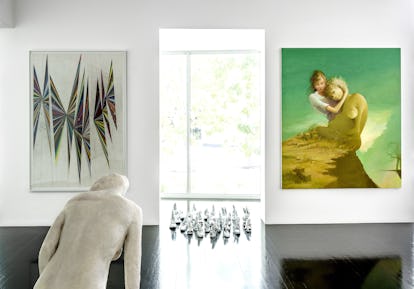 Photo by Firooz Zahedi in City of Angels: Houses and Gardens of Los Angeles, by Firooz Zahedi and Jennifer Ash Rudick.
One day, years after the art collector couple Cliff and Mandy Einstein's two children were grown, they decided to completely rethink the way they lived in their home in a former Los Angeles avocado grove, which they originally purchased in 1972 and had the architect Ron Goldman refashion into a timeless space. "We wondered what our home would look like if it were transformed into galleries for contemporary art," Cliff Einstein recalls. "As we discussed this possibility, we realized that we could really make it happen. And we began what became our great adventure together." Since then, the couple has collected about 200 works, 120 of which are displayed, with others often on loan to museums. "We wish we could see them all at once." Now a fluid and compelling blend of architecture, art, and landscape, tour the house of one of L.A.'s most powerful art couples, here.