Embrace the Best Of Milan Street Style With These 10 Embellished Jackets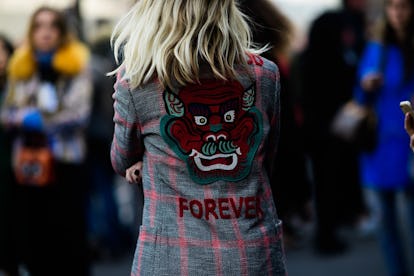 Photo by Adam Katz Sinding.
In the vibrant city that is Milan, where repetition and uniformity are considered sacrilege, self-expression takes a new form in Milan street style's latest trend: embellished jackets. One of the reasons this trend is so popular is that it can be fit to any style, ranging from the most classic looks to something wild and Gucci-inspired. You may opt for the relaxed jean jacket embellishment from the likes of Alexander McQueen or Off-White, or look to a more formal embellishment like Stella McCartney's blazer–either way you can be sure the piece will add a personal touch to any look. If you like to go the extra mile, brands like Understated Leather let you purchase your own 'patches' that you can pair with their leather or denim jackets to make your piece truly one-of-a-kind. For more embellished inspiration, click through some of our favorite pieces available to buy now.