Miu Miu Closes Out Fashion Month with a Retro Trip to the Beach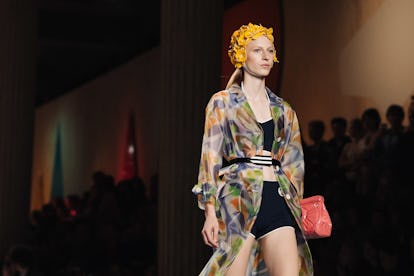 Photo by Simbarashe Cha.
On Wednesday, Miuccia Prada put a cap on the last month of shows by snagging the final slot of Paris Fashion Week. A floral bathing cap, to be more precise: Her spring 2017 showing for Miu Miu was practically poolside, complete with bikinis and even slides mixed in among the platform heels. Prada, it seems, has been bringing out the scrapbook lately: She showed off her greatest hits for her namesake label two weeks before in Milan, only to go even further back for the house's little sister in Paris, turning to the '60s and '70s prints and florals from her youth. Accented with playful oversized glasses and even seashell motifs, the show seemed full-on festive – or, at least, the closest tired showgoers might get to a beachside reprieve.