New York Fashion Week's Biggest Street Style Hit Was the Statement Puffer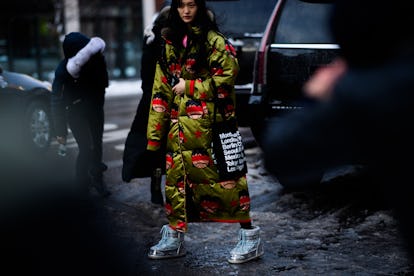 Photo by Adam Katz Sinding.
With New York Fashion Week coming to a close–and balmy spring weather still seeming very far away–there is one trend that satisfies our two basic needs; fashion and survival. Enter the statement puffer, this seasons essential piece to combat the treacherous winds on the streets of New York. Whether you opt to go for Alena Akmudullina's beautifully embroidered, Kimono-inspired piece, or a classic like Christian Dior's vintage red jacket, you can be sure to elevate any outfit. Another reason that these puffers are such a staple piece is that their shapes are so striking and easy to manipulate—whether you belt it to add more dimensions to the look or add layers underneath to build volume, there is no shortage of ways to personalize your outfit. For more of the best puffers to buy now–it is only mid-February, after-all–click through.