Philipp Plein's After Party and Dinner Included Paris Hilton and Table Top Dancing
After his first NYFW show, Philipp Plein hosted an intimate dinner that drew Paris and Nicky Hilton, Fat Joe, Sofia Richie, and, briefly, Kylie Jenner.
---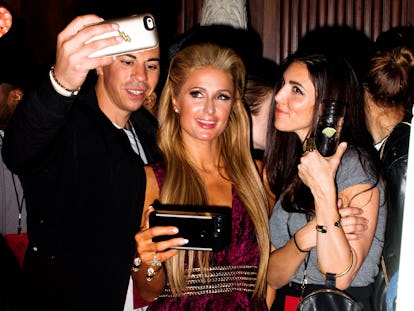 zak krevitt
After making his debut at New York Fashion Week, German designer Philipp Plein invited VIP guests to the second floor of the New York Public library for dinner. Though some of the notable front row members decided to forgo the event, Nicky Hilton Rothschild, Paris Hilton, Fat Joe, Bryanboy, and the "Hot Felon" model Jeremy Meeks showed up. Masquerade ball-style masks and tabletop dancing were encouraged. In fact, the centerpiece of the dinner table included a disco ball, two silver poles, and, throughout much of dinner, a woman performing hula hoop dances. Later, after a New Year's Eve-style countdown to Valentine's Day, Plein encouraged his guests to get up on the table and join in him dancing. The moment found Hilton boogying with Sofia Richie, the younger sister of her former TV BFF Nicole. No on seemed too upset they were missing the other afterparty downstair that included DJs The Martinez brother and actual bumper cars.