Photo London 2017: When Robert Mapplethorpe Shot a Young Karl Lagerfeld, and More of the Best Images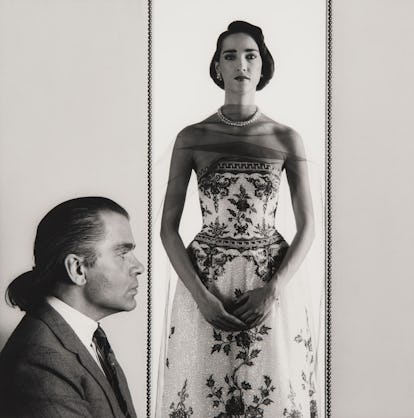 Copyright Robert Mapplethorpe Foundation, New York.
Photo London, the city's sprawling photography fair, which is currently on view at Somerset House through Sunday, is only in its third year, but the 2017 edition has proven the fledgling fair has already come into its own with a strong show of icons among the upstart talents on show. This time around, Kate Moss, as ever, has a place in the spotlight thanks to Arthur Elgort's '90s editorials at Atlas Gallery, featuring Moss seated pantsless at a counter in Los Angeles, or smoking atop a Parisian tabletop much to diners's delight. Meanwhile, Alison Jacques Gallery has a trove of Robert Mapplethorpe classics, like pared down black-and-white images of orchids and disembodied limbs, with a welcome surprise thrown in there, too: In the foreground of an image of the '80s model Dovanna, there's also a brooding, pre-white hair but still ponytailed Karl Lagerfeld. And in addition to he and Moss, there are other big names on view: Stephen Shore's black-and-white images feature Andy Warhol, Lou Reed, and Edie Sedgwick all looking their best in '60s New York, while the late photo legend Guy Bourdin has taken over Louise Alexander Gallery's booth with his own fashion editorials, which go a bit further back to the '70s. Take it all in, here.