Inside Rihanna's L.A. Fenty Puma Pop-Up, Where She Decided to Play Shop Clerk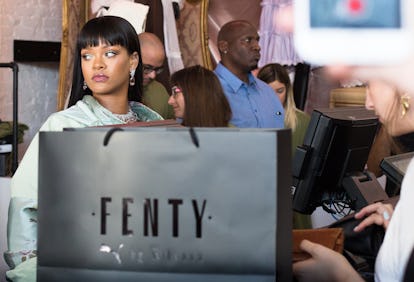 Photo by Myles Pettengill.
Pop-up shops are back in session. While brands like Hood by Air, Yeezy, and Opening Ceremony have all laid claim to pop-up real estate in recent months, with the sudden arrival of spring, Rihanna has swept in to show the rest of fashion how it's done. On Tuesday and Wednesday, a series of Nike and Puma-clad fans queued up outside the temporary Hollywood space occupied by Fenty Puma by Rihanna, hoping to nab pieces from the label's latest drop—including silk, bow-adorned sneakers in pastel lavender and pink, babydoll dresses, and army-green corsetry—and, if they were especially lucky, a glimpse of the singer and designer herself. Rihanna, clad in head-to-toe Fenty Puma Spring 2017, her Marie Antoinette-inspired athluxury collection, stopped by to survey the empire she had created and even work the checkout counter for a few minutes. For most of us, playing Marie Antoinette for a day would be enough. Rihanna decided to play shop clerk, too.