After Appearing in Kendrick Lamar's "Humble" Video, an Exclusive Look at Second/Layer's Fall 2017 Collection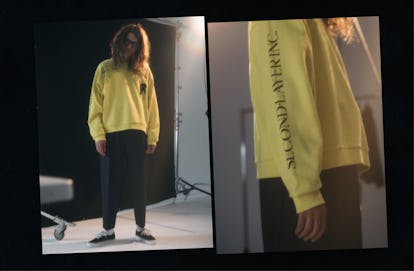 Photo by John Clayton Lee.
It's been a great year for young menswear designers Joshua Willis and Anthony Franco of Second/Layer, whose debut spring 2017 presentation at New York Fashion Week: Men's received high praise from editors, buyers, and stylists like Eugene Tong. Things somehow got even better though at the end of March this year, when Kendrick Lamar wore both a Second/Layer logo shirt and the brand's "Dreamer" hoodie in his music video for "Humble," which has approximately 77 million views to date. Needless to say, the hoodie is now sold out. These two California boys are still dreaming, however, and Second/Layer's Fall 2017 collection builds on the brand's now-established chicano cuts and skate vibes. They've also injected a bit more color this season, and new graphic prints (all drawn by Franco) that add a more romantic and soft aura. Here, an exclusive look at the Second/Layer fall 2017 look-book, the soundtrack for which Willis and Franco suggest as being "somewhere between the Cocteau Twins's 'Lorelei' and Jesus Mary Chain's 'Never Understand.'" So, stop, look, and listen.