Shop the Look: How to Get Rihanna's Met Gala After Party Look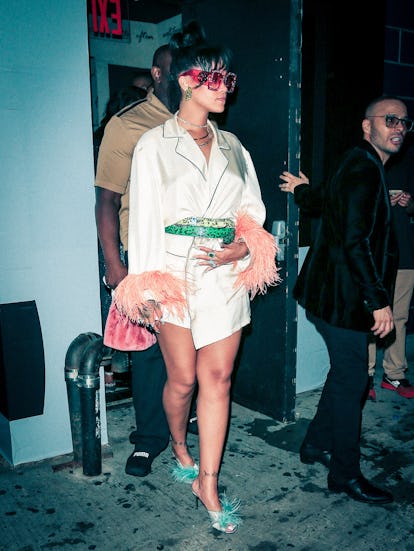 Photo by Getty Images.
Who doesn't want to look like Rihanna? This week, after wowing on the red carpet at the Met Gala in a Comme des Garçons runway look, the singer headed to her after party at 1 Oak wearing a boudoir-inspired ensemble. Worn straight out of the bedroom, silk robes are a new favorite for late night club-goers, who opt to pair the look with stilettos and jewels rather than an eye-mask. It's a daring look, but one that is surprisingly easy to pull off, thanks to brands such as Prada, Attico and Fleur du Mal who have taken to the silk, pajama inspired design and made it simple to shop. Whether you pair the lingerie-inspired pieces with heels and bare legs, or prefer to wear it over jeans, there are no limit to the amount of accessories that you can have fun with, and as evidenced by Riri, feathers make for the perfect accent.. Get ahead of this trend and shop below!