Spring's Most Colorful Trends Modeled By Aleece Wilson, Fashion's Rising Star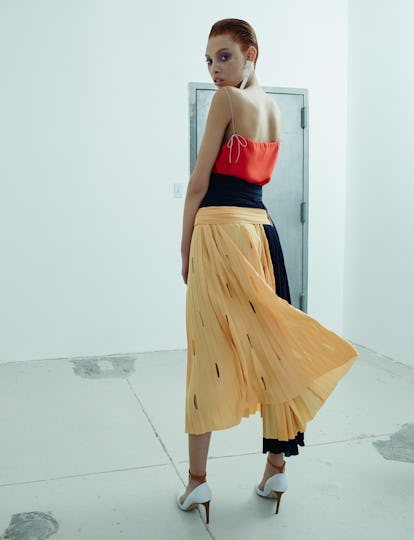 Photo by Ed Singleton, styled by Solange Franklin. Visual Editor: Biel Parklee. Hair by Eric Williams at MAM, makeup by Grace Ahn at Julian Watson Agency, manicure by Yukie Miyakawa at Kate Ryan. Model: Aleece Wilson at Elite NY. Produced by Teddy Productions. Post-Productions: Silhouette Studio.
April showers also bring spring looks, and after a long winter there's nothing we want more than to wear color from head-to-toe. Brands like Valentino, Oscar de la Renta, and Céline are here to help. Plus, Joseph Altuzarra is seeing stripes for spring 2017, which as we know is one of the season's biggest trends, along with off-the-shoulder dresses and tops. No matter the weather though, designer Miuccia Prada always loves to employ a pop of pastel, and this season she's va-va-voom'ed the look with boudoir feather trimmings in a rainbow of shades. But if there's one trend and color combo that stands out from the pack, it's Millennial pink, followed by red in close second, which we're going to see everywhere this fall. And last but not least, to balance a palate as bold as this one, you're going to need a sculptural earring to boot. While it may sound like a lot for one season, stylist Solange Franklin and photographer Ed Singleton make it look easy in this spring spread modeled by rising star Aleece Wilson.