Celebrating Thanksgiving With W's Favorite Families and Crews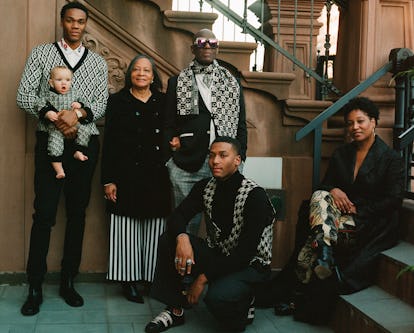 Photograph by Jeff Henrikson. Photography Assistants: Jordan Zuppa, Austin Perrota. Still life Images shot on location at The Plaza, New York.
The holidays have always been about getting together with family—whether your blood relatives or the friends who have become chosen family. And although the way most people plan to celebrate Thanksgiving and the winter festivities this year looks different, the foundational values still stand. If you're spending this week gathered around a FaceTime with loved ones rather than a savory tablescape of turkey, stuffing, and mashed potatoes, we can commiserate. It's still high time to honor the people who support and love us most, no matter how we're connecting with them in 2020. This Thanksgiving, we've culled a list of our favorite families, friend groups, and crews featured in the pages of W—from Dapper Dan and his kin to a group of art restorers from the Merlini Storti studio in Rome. Take a look at the most storied and classic clans, here.