See Tilda Swinton Completely Transformed as Legendary Eccentric Edith Sitwell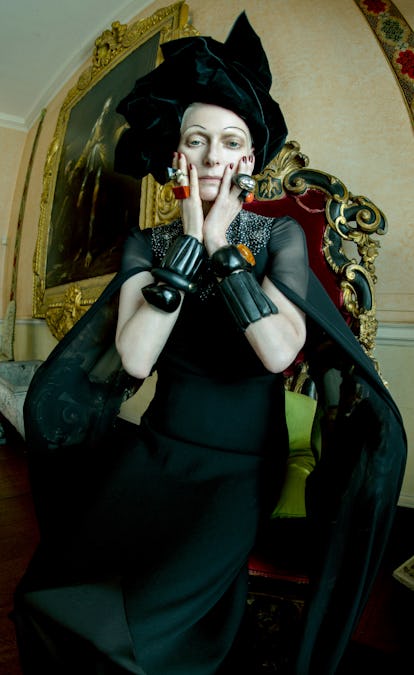 Photograph by Tim Walker; Styled by Sara Moonves.
Over the past few years, Tilda Swinton and the ­photographer Tim Walker have channeled an ever-growing cast of intriguing historical figures—the collector and philanthropist ­Dominique de Menil, the artist Leonora Carrington, the poet and patron Edward James, the all-around genius David Bowie—in a gorgeously surreal series of photographs for W. Their most recent muse, the subject of the images seen here, holds special significance. Dame Edith Sitwell, born in 1887, was not only a poet, critic, and famous eccentric, she was Swinton's cousin and, as an 8-year-old, the flower girl in Swinton's paternal great-grandmother Elsie's wedding. In fact, it was Elsie, a celebrated chanteuse once painted by John Singer Sargent, whom Sitwell credited with first introducing her to the world of art. "I have been aware of the Sitwells all my life," Swinton says of Edith and her younger ­brothers, Osbert and ­Sacheverell, who were also writers. "As significant examples of artists to whom I can claim kin, I've always treasured them." Here, she pays tribute to her cousin in these photos shot by Walker at the stunning Renishaw Hall, in Derbyshire, near Sheffield, a sprawling, nearly four-centuries-old manse where the Sitwells grew up.