Director's Cut: Four Filmmakers in the Oscars Race Collaborate With Their Leading Women For W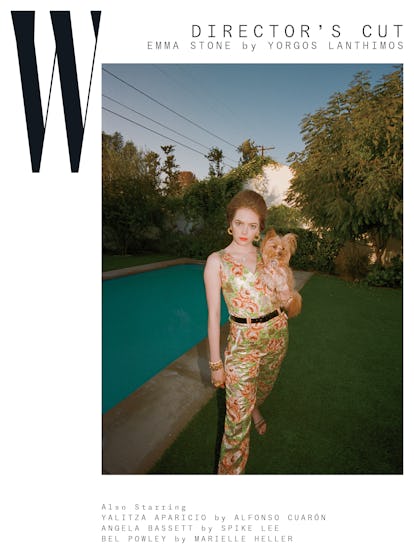 Directed and Photographed by Yorgos Lanthimos; Styled by Sara Moonves. Hair by Mara Roszak at Starworks Artists; Makeup by Rachel Goodwin for Bobbi Brown Cosmetics at Streeters; Manicures by Emi Kudo for Dior Vernis at Opus Beauty. Set design by Gille Mills at the Magnet Agency. Produced by Meghan Gallagher at Connect The Dots; Production Manager: Jane Oh at Connect The Dots; Lead Photography Assistant: Zac Hahn; Photography Assistants: Sherman Lee, Brian Chism; Art layout: Vasilis Marmatakis; Photography Lab: Icon; Production Assistants: Nikki Patrlja, Ben Kilpatrick, Jeremy Sinclair, Hannah Murphy; Fashion Assistants: Allia Alliata di Montereale, Nadia Beeman; Set Assistants: Cory Bailey, Doug Stearns, Sara Gernsbacher; Tailor: Isa Kriegeskotte at Isa Stitches.
Visual storytelling has always been at the core of W's DNA. And, in this fragmented information era, few can still tell a compelling tale through images like a filmmaker. For our second issue featuring directors behind the cover stories, we worked with four of the best: Yorgos Lanthimos, Spike Lee, Marielle Heller, and Alfonso Cuarón, all of whom have films in the Oscars race this year and who brought in a few of their favorite actresses to help. Lanthimos, whose film The Favourite is up for 10 Academy Awards, including Best Picture, Best Director, and Best Supporting Actress for Emma Stone, with whom he collaborated here in a wild tale of a suburban dog lady gone mad. Lee's BlackKklansman, meanwhile, is in the running in six categories, including Best Picture and Best Director; following up on that cracking piece of historical fiction, he brought in his longtime muse Angela Bassett to recreate and reinvent some of the 20th century's most iconic photographs here. Meanwhile, Heller will be at the Oscars with Can You Ever Forgive Me?, which has three nominations including Best Actress candidate Melissa McCarthy, but she calls on her previous leading lady from The Diary of a Teenage Girl, Bel Powley, to play the Last Woman in the World. And Cuarón's highly personal film, Roma, which has 10 nominations including Best Picture and Best Director, puts his new star Yalitza Aparicio into his own past. For W, he put the Best Actress candidate squarely in the present, at the U.S.-Mexico border, up against a wall that cannot hope to contain her spirit. See all four directors' unique, powerful visions, here.