Scenes From Washington, D.C.'s Largest George Floyd Protest Yet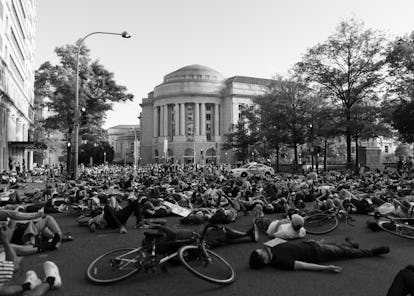 Photograph by Nate Palmer for W Magazine.
More than 5,000 protesters gathered in Washington, D.C. on Wednesday, making for the capital's largest protest over the death of George Floyd yet. They had company; more than 1,000 Army troops flew into the D.C. area earlier that day. And yet, things were relatively peaceful. Closely watched by the National Guard and cops in riot gear, the crowd marched from the White House to the Capitol Building, pausing only to lie down on the streets for eight minutes and 46 seconds—the amount of time the white former police officer Derek Chauvin knelt on Floyd's neck. Miraculously, zero were arrested, down from 289 just two days earlier. Mayor Muriel Bowser even lifted the city's curfew on Thursday morning—reportedly, to President Donald Trump's displeasure. (Crews have already installed concrete barriers and even more fences surrounding the vicinity of the White House to keep the protesters back.) For the D.C.-based filmmaker and photographer Nate Palmer, documenting the protests has been an "empowering experience." "We're at a pivotal point in our country's history, but still far from where we need to be," he says. "There is a newfound awareness about the Black struggle in our country, and while that awareness can be exhausting for us, it's a good thing overall." See the photos he took on the ground on Wednesday, here.