Swiss Street Style Shows Why Zurich is Europe's Most Underrated Culture Capital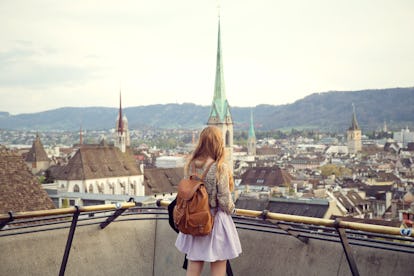 Photo by Franca Candrian & Dean Jaggi, Visual Editor: Biel Parklee.
Based in Paris and under the leadership of Georgian designer Demna Gvasalia, the label-slash-fashion collective Vetements has always had a kind of polyglot spirit. Its irreverent approach—like its collaborations with Juicy Couture and Champion—and runway shows juxtaposed against French landmarks like Galeries Lafayette and the Centre Pompidou stood out next to the more traditional Parisian houses. But now, seeking a fresh scene (and, perhaps, a reprieve from some taxes), the Gvasalia brothers are moving their shop to Zurich, Switzerland. "Paris kills creativity," CEO Gurum Gvasalia said last month. Zurich, on the other hand, is home to an exciting architecture and graphic design community. Watchmakers aside, Zurich was also the birthplace of Dadaism. The city features both an idyllic waterfront and striking architecture; it's populated by students, artists, and, of course, a vibrant street style scene. But, as documented in this photo essay by photographers Franca Candrian and Dean Jaggi, Zurich also has a certain je ne sais quoi, to borrow from the French, that makes it an appealing cultural capital for a brand seeking to keep the fashion world on its toes. Here, see why Zurich is Europe's most underrated creative hub.