Chloe Wise Wore Only Suits to Frieze London, While Dreaming of Christopher Kane Crocs and Crazy Socks
The artist shares her daily uniform, what's always in her bag, and the items on her fall shopping wish list.
---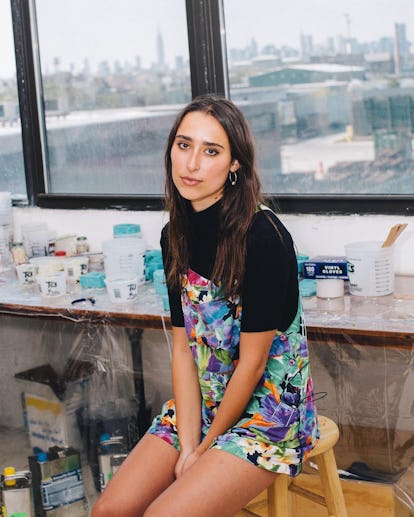 Courtesy of @chloewise_
The artist Chloe Wise burst onto the art scene in 2013 with her "Bread Bags," recreating Chanel and Louis Vuitton purses in urethane "dough" and finishing them with oil paint and designer labels or charms. She's since added food sculptures, oil on canvas portraits, and a self portrait series where she poses for photographs alongside her own portraits in the same clothes and mannerisms. Up until now, she has mostly shown with Sebastien Bertrand in Switzerland or Division gallery in Canada, but this past weekend the 25-year-old Canadian was at Frieze London with the powerhouse dealer Almine Rech, who has galleries in Paris, Brussels, London and soon New York.
"My highlights at Frieze were showing in the same booth as amazing artists like Jeff Koons, Richard Prince and Franz West," says the New York-based Wise. "[Plus] some amazing group shows like 'Infinite Mix,' which had beautiful and hilarious video art (I shed a tear at the Ugo Rondinone video…). And Frieze Masters was amazing; the Egon Schiele drawings were unreal."
Up next, a solo show at Division in Montreal will open November 17th, and she'll release a book with essays and images of her work later this month. But here, Wise talks all things fashion — a world she's become increasingly familiar with, recently sitting front row at Marc Jacobs's spring 2017 show. It would seem that her whimsical sense of personal style is nothing new, solidified by her fall wishlist, which includes Crocs and many, many, many pairs of patterned socks. Read on for more of her style notes.
Artist Chloe Wise's Latest Work
Occupation: Multidisciplinary artist.
Three words that describe your style: Extra-spicy, family-size, Canadian™.
Daily uniform: Patterned pants (usually silk/floral/cherry print or other), undistinguishable vague band t-shirt, Acne leather jacket or CDG men's blazer from the 80's, spiral Beaufille earrings, Zana Bayne leather bag, and a hazmat suit/respirator to tie it all together while keeping me safe from the harmful fumes of my sculpture studio.
Favorite store in New York: The exotic plants store on East 10th Street.
Favorite store in London: Gift shop at the National Portrait Gallery.
Nighttime look: Whatever I wore to the studio, but with more elaborate earrings and any color lipstick I find at the bottom of my purse expertly smeared onto my eyes in the back of an Uber.
Style icons/inspirations: My mom (she dressed like Annie Hall's sexy cousin through the 70's and 80's), anyone in any Klimt painting ever.
Best recent discovery: You can basically type in any painting you want on eBay and find gorgeous merch of said painting. My roommate and I just bought a Hieronymus Bosch print shower curtain and bath mat.
Style pet peeve: People wearing fedoras and not tipping them. If you're gonna do that, actively "m'lady" and tip your damn hat, sir.
Last purchase: A book of Picasso's early etchings and a black hoodie that reads DEUTSCHLAND on a layover in Munich.
Lusting after: The Christopher Kane marble crocs (?!) and a bunch of Shakespearean ruffs I am bidding on on eBay.
What's always in your bag: An eyelash curler, the book I'm reading (right now, Art of Cruelty by Maggie Nelson), Band-Aids, calligraphy pen.
Something you would never wear: Myself down 😉
Most prized possessions in your closet: A crazy 80's Junya Watanabe bright yellow floor-length coat with snakes and animals all over it from my mom; a t-shirt with a photo of myself and my friend, with graffiti letters printed on that read "we love mommy and daddy" and "grandpa's little treasure" from Coney Island.
Frieze week go-to: I wore suits the whole week to feel professional.
Fall wardrobe must-have: Many, many, many pairs of patterned socks. My new favorites include basketball print, Manet's Déjeuner sur l'Herbe print, and heart print.
Watch: Women in the Art World