David and Victoria Beckham Buy $20 Million Miami Penthouse in a Zaha Hadid Building
The futuristic skyscraper now counts the Beckhams as residents.
---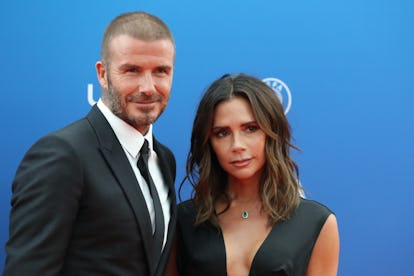 VALERY HACHE/Getty Images
David Beckham has been plotting for the better part of a decade to bring a Major League Soccer team back to the city of Miami. There have been a few hiccups along the way: Beckham had to settle for basing the team in neighboring Ft. Lauderdale, and the MLS season was halted after the team played their first two games.
Still, amidst all of this, the South Florida real estate market has been buzzing for years as to whether David, Victoria, and the other assorted Beckhams would ever buy a permanent home base in the area. Rumors abounded; at one point, there was even buzz that Victoria had her eye on Gianni Versace's famous former South Beach mansion.
As it turns out, however, the Beckhams have opted for the mainland over the beach—and for an apartment over a mansion. Though, obviously, it's not just any apartment. They've just closed on a full-floor penthouse in the futuristic One Thousand Museum building. Sometimes dubbed "the scorpion building," its exo-skeleton construction certainly makes it stand out.
The 62-story tower is one of the final projects designed by famed architect Zaha Hadid before her death in 2016. It's also one of only two residential buildings designed by the architect in North American (the other: New York City's 520 West 28th, which Ariana Grande calls home). Hadid lived part-time in Miami, and undertook the project as a love letter to the city. Upon completion, it became a major addition to the city's skyline. It has views of Biscayne Bay, the Miami Heat's American Airlines Arena, and, as the name suggests, the city's waterfront Museum Park.
The Miami Herald reports that the price tag is believed to be around the $20 million mark.
The Beckhams' new home is one of 10 full-floor units in the building, and will net them a total of 11,046 square feet of space. Resident privacy is high priority at the building, and the Beckhams will enjoy private, high-speed elevators that open directly to residences. Should they want to mingle with the rest of the building's residents, they can enjoy a two-floor spa and wellness area that includes a gym, steam room, and sauna. There's also a theater available for private screenings. This being Miami, there are also multiple pools. Other amenities include private safety deposit boxes inside a vault, custom scenting throughout the building, and, pending approval, a private rooftop helipad.
Staff doesn't leave much up to question when it comes to residents's concerns, except, of course, as to when the Beckhams can actually move in. That's beyond their control at the moment, and according to their Instagram accounts, David and Victoria seem to be isolating somewhere in the British countryside at the moment.
Zaha Hadid's Most Iconic Buildings
Messner Mountain Museum Corones in Italy. Photo by Inexhibit.
Heyday Aliyev Center in Baku, Azerbaijan. Photo by Hufton Crow.
Serpentine Sackler Gallery in London. Photo Luke Hayes.
Pierresvives building in France.
Jockey Club Innovation Tower at Hong Kong Polytechnic University. Photo by Doublespace.
London Aquatics Centre. Photo by Hufton+Crow.
Contemporary Arts Center in Cincinnati. Photo Roland Halbe.
Dongdaemun Design Plaza in Seoul. Photo Virgile Simon Bertrand.
Vitra Fire Station in Weil am Rhein, Germany. Photo by Christian Richters.
Guangzhou Opera House in Guangzhou, Hong Kong. Photo by Virgile Simon Bertrand.
Galaxy Soho in Beijing, China. Photo by Hufton + Crow.
Phaeno Science Centre in Wolfsburg, Germany. Photo by Werner Huthmacher.
MAXXI Museum of XXI Century Art in Rome, Italy. Photo by Iwan Baan.
Zaha Hadid. Portrait by Mary McCartney.