Lisa Love Looks Back at Her Life in Parties
The peripatetic creative director and editor gives us rare VIP access to her festive world.
---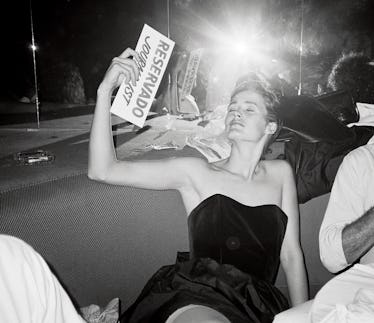 "Pamela Hanson took this photo of me. I don't know where I was—somewhere not in the U.S. But I do know it was after my wedding, because I designed this dress for my rehearsal dinner," Love says. "Around the time I got married, I was very good friends with the Chanel designer, Philippe Guy Bourget, and they offered to make my wedding dress. And I was like, 'No, thanks. I got this.' " Courtesy of Pamela Hanson.
Lisa Love has lived many lives: She was a painter, a model, and then Andy Warhol's Los Angeles driver of choice before she became the West Coast editor of Interview, and then the West Coast editor of Vogue, a position she held for close to 30 years. Now she's the brains behind the annual star-studded Academy Museum Gala, among other things. Love spent her childhood in Rome, Geneva, and London. It was in Geneva that she met her lifelong best friend, the photographer Pamela Hanson. "When we were all of 6 years old, we used to 'cohost' our parents' cocktail parties, pretending to be waiters, passing inedible hors d'oeuvres we had made, or mixologists, concocting disgusting drinks," Love says. "Before bedtime, we had morphed into 'event photographers.' We made a cardboard copy of a Rolleiflex, with an opening in the back where we stashed small painted portraits of the guests, then charged them 50 Swiss centimes a portrait. It's no wonder that she ended up the photographer and I the party planner." Those outside of the fashion world might recognize Love from her star turn on MTV's The Hills, where she delivered the iconic, perfectly deadpan line "She's gonna always be known as the girl who didn't go to Paris." Love remembers her experience as a reality television star somewhat less than fondly, but she has plenty of other fascinating stories to tell.