Michael Musto Looks Back at His Life in Parties
The club chronicler, known for his exuberant style, reflects on New York City's nightlife heyday.
---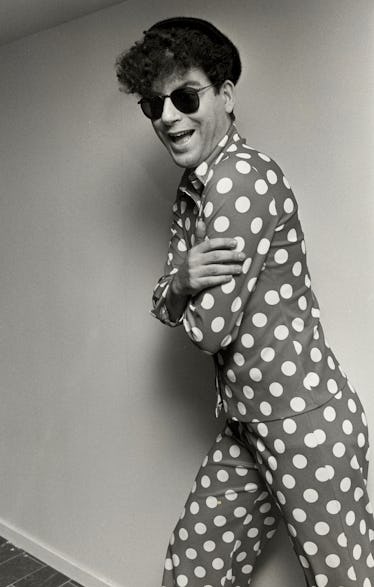 In the '80s, Musto's days were about figuring out what he'd do at night. "I would drag myself out of bed, start writing, and eventually get the mail. You would go through your invitations and your press releases. The evening would generally start with a six o'clock screening or an eight o'clock Broadway show. Then you could go on to a restaurant party, a nightclub party, an afterparty, and an after-hours club. Now people just stay home and binge The White Lotus." Ron Galella/Collection via Getty Images.
One of the few times Michael Musto ever woke up early in the 1980s was to head to an interview for a gossip and nightlife columnist job at The Village Voice. "I was just a wreck, because I hadn't existed in the morning for quite some time at that point," he says. But he got the gig and continued a mostly nocturnal existence for the next few decades, documenting the dirt and glamour of New York City's downtown scene. In the world of "La Dolce Musto," as his column was titled, club kids, drag queens, and tabloid fixtures were every bit as noteworthy as pop stars and models. Often, they were partying together at the clubs Musto frequented anyway. "I'm not just always talking about the past," says Musto, who remains a party fixture and writes cultural criticism for The Village Voice and other publications. "But I'm happy to do so, because I was there. I remember everything, and it was truly extraordinary."