Inside Palm Springs Modernism Week, a Celebration of 1960s Midcentury Design
An outsider in the desert stumbles upon the midcentury modern oasis of Southern California real estate.
---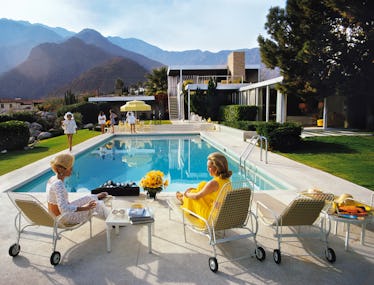 A desert house designed by Richard Neutra for Edgar J. Kaufmann, Palm Springs, California, January 1970, photographed by Slim Aarons. Courtesy of Getty Images.
What brought me to the desert for a long weekend? A desire to reconnect with my people, 3,000 years after the events of Exodus? (Hardly.) The opportunity to dress in glitzy, skin-baring outfits and dance to the beat of Coachella's headliners? No, I was about two months (and a whole lot of interest) short of that. I, an East Coast native who recently moved to the San Francisco Bay Area, visited Palm Springs, California in the middle of February for Modernism Week—an annual event that allows local homeowners to show off their midcentury modern architectural wonders. Little did I know, I would leave my 72 hours in the Southern California desert with a deep appreciation for a place that has preserved the 1960s aesthetic, keeping modernist design firmly enshrined in its local history.
Over the past 100-or-so years, Palm Springs has been home to a vibrant culture and community, especially when it comes to all things 1960s. And during Modernism Week, the town and its homes are on full display: some houses in the area boast their ties to Palm Springs's Hollywood heyday ("There's an unsubstantiated rumor Ol' Blue Eyes swam in this pool," one sign read), while others capture the look with a heavy helping of kitsch—martini-printed throw pillows; Slim Aarons prints; so much Marilyn Monroe paraphernalia, even Kim would be overwhelmed. For two days, I walked in and out of thresholds, putting on and taking off shoe covers out of respect for the vintage carpets—experiencing a world unlike any other I've seen before.
I would like to take a moment to state that I am very much a Palm Springs novice. I'm straight, under the age of 50, and fairly unmoved by a lawn flamingo. It's fair to say that I was an outsider in these homes—but that didn't seem to matter. The people I met welcomed me with open arms, answering my sometimes-silly questions ("Is that couch comfortable?" I inquired about a Herman Miller Wilkes sofa. "Does it matter?" the owner responded with a cheeky grin). Everyone was pleased to share the stories of their homes: who'd originally designed them, who'd allegedly sipped a martini by the pool, which features were original, which had been refurbished. The love for these homes poured out of their inhabitants, all of whom take immense pride in the decor, the history, and the upkeep. Because of that, the chance to show off their hard work felt very much like a celebration.
The cast of characters I found in these homeowners was also unmatched. I met one named Sandy perched by her pool; she was a docent for the day, but very happy to tell me about the range of midcentury modern houses she's plucking up in Lake Forest, Illinois. I initially approached Sandy after her shoes—a pair of satin, hot-pink pumps with a plastic geometric heel—caught my eye. "Oh, they're Sam Edelman," she said with a laugh when I asked whether they were vintage. "I have them in chartreuse as well." Later, I met a shoe designer wearing earrings shaped like binder clips. I showed her the picture I snuck of Sandy's shoes back when I thought they might be a relic from a different time. "Ah yes, Sam Edelman," she said with a note of nostalgia. "He tried to fuck me in a hot tub once." I later learned that same outspoken woman spent the day prior walking around in the white knee-high boots Nancy Sinatra claimed were made for walking. It seems I'd missed the vintage shoe moment I was craving by just twenty-four hours.
A third woman with pink hair—unrelated to the prior two, but boy, would they have made quite the trio—walked us into her house, which bursted with primary colors. A bright blue Arne Jacobsen egg chair sat next to Mies van der Rohe's Barcelona in black, a white Eames chair was next to a vibrant orange side table, and a glass-topped Noguchi found itself stationed in the middle of the dark-wood room. The vision was so strong, it would take a real curmudgeon to not respect such dedication to design.
In a first-timer's eyes, it seems one doesn't move to Palm Springs and not get swept up in the town's history. And, of course, you don't open up your house and participate in Modernism Week without knowing your quarters are a sight to behold. I'm sure there are many residences in Palm Springs that are run-of-the-mill homes without a piece of Herman Miller furniture in sight. But I left Palm Springs with the idea stuck firmly in my mind that it exists on a whole other planet altogether. It's a place where John F. Kennedy is still president, actors are still signed onto studio deals, and Marilyn is singing about diamonds to this day.