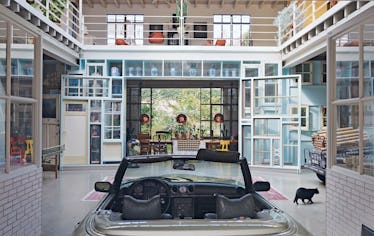 The large, open space that defines Petra Janssen and Edwin Vollebergh's home is divided by a recycled glass wall designed by Piet Hein Eek. 'Coming Home, Modern Rustic: Creative Living in Dutch Interiors' by Barbara de Vries, © Rizzoli New York, 2021.
Excerpted with permission from Coming Home, Modern Rustic: Creative Living in Dutch Interiors by Barbara de Vries, © Rizzoli New York, 2021.
When graphic designers Petra Janssen and Edwin Vollebergh first saw the automobile repair shop in Den Bosch, it had been abandoned for thirty years. The roof had collapsed and most of the interior was in ruins, yet Petra and Edwin didn't see it that way. They only saw what it could and would be, what they now call their playground. "It was important for us to create a space where family life, creativity, and work would come together," Petra says. "We wanted it to be a mirror of our multifaceted lives."
They recycled most of the existing steel beams, restored the mezzanine level, and replaced the skylights with thermal glass. To break up the big space, they asked their friend Piet Hein Eek, a colleague from the Eindhoven Design Academy (DAE), to create a divider that would separate the studio from the living areas. It would also house their collection of vases, comic books, and other quirky ephemera. The result was a large blue wall entirely made from recycled doors and windows.
Petra takes me up to the mezzanine, and looking down, I experience a kind of creative vertigo. It's like I've entered a skylit microcosm that contains the eclectic culture of Petra and Edwin, their two sons, two cats, one dog, and Studio Boot (their design firm). "It's only an accumulation of parenting, working, and staying playful," Petra laughs.
Entertaining friends and clients is part of their creative process, and home meets work in the kitchen, over lunch and dinner. Beyond the kitchen is a large, walled-in garden, a sanctuary that used to be a graveyard for rusting cars, but now produces apples, pears, and walnuts, as well as flowers, pumpkins, leafy greens, and vegetables, in raised garden beds. There's also a sunken tub for outdoor bathing, and a long wooden table where everyone comes together in the summer.
Petra and Edwin's desks are across from each other in one of the two rooms that replicate the glass-paneled offices of the former repair shop. The second one is for employees and meetings. "Our team complements us," Edwin says. He goes on to explain how he met Petra 30 years ago at the Royal Academy of Art in Den Bosch, and how working together has strengthened their creativity. "I'm all about the details and Petra has the broader, social overview that defines our vision," he says.
One wall of the studio is lined with Edwin's posters. His unique graphics and bright, often fluorescent, colors are used for promoting causes and art, music, or theater festivals and even soccer matches. The posters have become collectable artworks, and Edwin recently discovered that counterfeit copies were being sold online. "I phoned the guy and he had the audacity to say that it was a compliment!" he says.
Petra thrives on social engagement. She taught at DAE in its heyday, when Lidewij Edelkoort was its director, and Anthon Beeke was head of the graphic design program. "We turned traditional learning on its head, Petra says. "When my time there ended, I felt the need to replace teaching with something equally challenging." An opportunity came in 2011, when Petra and Edwin staged a sustainable design festival near their hometown of Den Bosch. Again, they collaborated with Piet Hein Eek, who created picnic tables for a temporary restaurant, using scrap wood held together by industrial straps. Amarant, a nearby workshop for people with autism, volunteered to help Piet Hein with the construction of the tables. Based on their collaboration, Petra and Amarant launched HOUT (Dutch for wood), a collection of furniture made from recycled lumber.
Walking down the street, one might think the home is still an auto body shop.

Coming Home, Modern Rustic: Creative Living in Dutch Interiors by Barbara de Vries, © Rizzoli New York, 2021.
The modernism of the staircase is contrasted with an antique wood stove.

Coming Home, Modern Rustic: Creative Living in Dutch Interiors by Barbara de Vries, © Rizzoli New York, 2021.
Inspired by the response to HOUT, Petra and her friend Simone Kramer started Social Label. With Petra's background in design and Simone's experience in public relations, they planned a labor strategy for people with poor employment prospects. "Everyone deserves a good life and if you apply inclusive design and communication on a local level, you're addressing sustainability in rewarding ways," Petra says.
After our interview at the studio, Petra takes me to the new Social Label Design Lab. It's housed in a former cattle feed plant that was donated to the organization by the city of Den Bosch. Over the past eight years, Petra, Edwin, and Simone have converted the plant into a design incubator, workspace, and retail platform.
As we walk by a giant grain silo that has been made into an office, Petra explains how Social Labor connects each designer with his or her group. "We call them the makers," she says. These men and women, who are either physically or mentally challenged, are empowered not just by the income they receive but by the sense of pride the work gives them. "So far we have produced brooms made from recycled bicycles, ceramic vases, light fixtures, clocks, aprons and other linens, tote bags, and a collection of tableware called KOM (bowl in Dutch) that Edwin created," she says.
Petra takes me to the other side of the silo, where several trestle tables are stacked with cups, bowls, and plates. They look like Delft crockery, but on closer inspection, I realize that the images resemble tattoos. "It's an order for KOM and it's going to the Cooper Hewitt Museum in New York," Petra says.
At the inception of KOM, Edwin asked for design input from his group of makers. It turned out that they all loved tattoos, so he created stickers that would easily transfer onto china. The makers choose their own tattoo-blue prints for every piece, with iconic images like wheelchairs with wings, ice cream cones, and hearts and slogans like "Trots" (Proud), "Ik Ben Wat Ik Maak" (I Am What I Make), and "Life Is a Bitch."
On our way out, Petra shows me a picture of the opening day of the Werkwarenhuis (Workwarehouse) that was held in May 2018. It shows Her Royal Highness Queen Máxima of the Netherlands sitting, smiling, between Petra and Simone. A group of men and women, young and old, surrounds the three of them. "Everyone was there, in our melting pot. Our supporters, our makers, our designers, and even our Queen," she says.