My Life in Parties: The Cobrasnake
Mark Hunter's unfiltered nightlife shots defined an early digital aesthetic—and ushered in the social media age.
---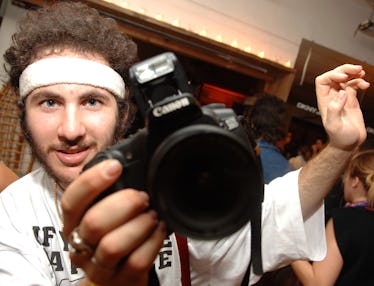 "I learned early on in my career that I always wanted to have my camera, because the second you didn't, you'd miss some amazing opportunity," Mark Hunter says. Here, he stands at the ready at a DKNY Jeans and "Jane" magazine party in New York in 2005. Theo Wargo/WireImage for "Jane" magazine/courtesy of Getty Images.
"They called me the Instagram before Instagram," says the photographer Mark Hunter, perhaps better known by his nom de caméra, the Cobrasnake. Hunter, whose photographs will be collected in a book from Rizzoli next year, got his start documenting the Los Angeles nightlife scene of the aughts with his trusty Canon, eventually traveling the globe to chronicle musicians, designers, models, and celebrities in their most unguarded after-hours moments. The Cobrasnake website was the go-to site for cool-kid voyeurism and underground style inspiration, and even the noncelebrity regulars portrayed in Hunter's galleries could attain notoriety. "This was the age of opulence before the 2008 recession," Hunter says. "Everyone was living it up, and I was just running around frantically like a big fan. I wanted to catch them all, like Pokémon."