10 Fashion Films to Stream on Labor Day (And Before Fashion Week Kicks Off)
Why don't you take the long weekend to kick back on your couch and get in the stylish mindset before the madness of fashion month begins with these classic fashion movies.
---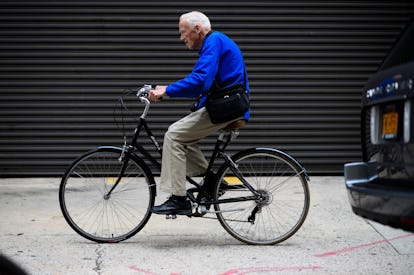 Adam Katz Sinding
Before the Spring 2017 shows kick off next week with New York Fashion Week, it's important to remember why we fell in love with fashion in the first place: The genius minds behind the design process, the stunning results, the incomparable style icons, and the colorful personalities who make it all happen each season. And one of the best ways to see it all in action is on film, with the many documentaries and Hollywood films that attempt to capture a sliver of what it's like to exist in the wild world of fashion. So, take time over the long weekend to sit on your couch in your designer sweatpants and stream these ten classic fashion films, like Dior and I, which will no doubt have you sobbing by the end, or Iris, which will inspire you to get creative as you plan your outfits.
In the words of the late Diana Vreeland: "Fashion must be the most intoxicating release from the banality of the world."
1. Dior and I by Frédéric Tcheng (Netflix)
2. Bill Cunningham New York by Richard Press (Amazon Prime)
3. Saint Laurent by Bertrand Bonello (Amazon Prime)
4. Scatter My Ashes at Bergdorf's by Matthew Miele (Netflix)
5. Iris by Albert Maysles (Netflix)
6. Valentino: The Last Emperor by Matt Tyrnauer (M2M)
7. The September Issue by R. J. Cutler (Amazon Prime)
8. Unzipped by Douglas Keeve (Amazon Prime)
9. Diana Vreeland: The Eye Has to Travel by Lisa Immordino Vreeland, Frédéric Tcheng, Bent-Jorgen Permute (Amazon Prime)
10. The Devil Wears Prada by David Frankel (Amazon Prime)
Watch W's most popular videos here: