10 NYFW Designers On the Art That Inspired Them This Season
From Jason Wu to Eckhaus Latta, here are the paintings, sculptures, and photographs on the mood boards at New York Fashion Week Spring 2017.
---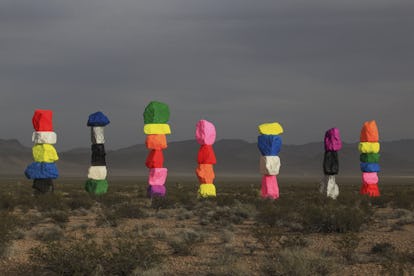 Photo by Gianfranco Gorgoni. Courtesy of Art Production Fund and Nevada Museum of Art.
While mood boards aren't for every designer — just ask the guys over at Linder and Second/Layer, who reject the idea altogether — they're a common thread throughout the women's shows, where the collections are often of a larger scale, and require some inspiration image or concept to grab on to. That being said, inspiration comes in every shape and size — Jason Wu looking to Ugo Rondinone's enormous "Seven Magic Mountains" in the Las Vegas desert for his Spring 2017 collection, and Kerby Jean-Raymond of Pyer Moss taking notes on the 1987 film Wall Street by Oliver Stone. Here, 10 New York designers share the art that inspired them this season. It's up to you, however, to catch the references throughout Fashion Week.
Jason Wu: "My main inspiration for my upcoming 2017 collection was the dynamic large-scale pieces from Swiss artist, Ugo Rondinone. The vibrant colors of his creation 'Seven Magic Mountains' left an indelible mark on me for Spring."
Jennifer Noyes and Alex Gilbert of M. Martin: "Slim Keith's road trip to the American West is our inspiration."
Kerby Jean-Raymond of Pyer Moss: "I was inspired by the 1987 film Wall Street by Oliver Stone. 'Greed is good.'"
Mike Eckhaus and Zoe Latta of Eckhaus Latta: "For our Spring 2017 collection, we worked with the artist Brendan Fowler."
Ryan Lobo and Ramon Martin of Tome: "For our fifth anniversary show we are feeling nostalgic, so our past muses — who have never really left our inspiration boards – are ever present. Louise Bourgeois, Piña Bausch, Georgia O'Keffe, Shirin Neshat, Ana Mendieta, and of course, Madonna (the singer not the virgin)."
Dion Lee: "This season I've referenced the kinetic artworks of Heinz Mack and Gunther Uecker, translating the linear elements of their works into a play on perspective and movement."
Gabriela Hearst: "Leigh Johnson Queen's Crescent exhibition at Farago Gallery inspired me this season. The raw, high charged emotion of the pieces makes you feel the realness of unprotected emotions."
Claudia Li: "I was inspired by the photography of Joseph Szabo this season. The mood of his photographs, the honesty in the expressions of the subjects' faces; very aloof, confident and with a sense of freedom and carefreeness."
Autumn Hruby of Hesperios: "I was inspired by my friend, Diana H. Stockton. We used her watercolors on some of our textiles for the Spring collection. I'm always inspired by the botanical world — her paintings of oral watercolors, her accidental brushstrokes, were perfect for our silk dresses, blouses and scarves. I am also inspired by ceramicist, Lucie Rie. I often refer to her use of color to inform the palettes that we choose."
Amanda Phelan of Phelan: "I was inspired by New York painter Caitlin Macbride's oil on canvas series of rumpled cloth. My family owns a few of her paintings, and I quickly became attracted to the cool blues, greens and flesh pinks in her work. The hyper-feminine tone of these pieces resonated with me. There is something very dreamy about the half representational nature of Caitlin's work. She has a skilled way of building and disassembling the space atop a canvas through fragmented shapes. This building up and breaking down is embedded within the image itself, and so it was for the process of printing this painting onto yardage and cutting the end product for our Spring 2017 print. Since a lot of my work explores self-referential use of material and process, I was naturally attracted to hers. I wanted to take these cleanly rendered, dream-like, fabric landscapes painted from still life and bring them back into fabric state. I was also invested in seeing how the result could further distort space when cut into very rigid silhouettes."