19 Songs to Help You Cope With News of a Donald Trump Presidency
Ouch, does today hurt. But we made a playlist of all the songs — the sad, the angry, and the resilient — to help you get through November 9, and the days that follow.
---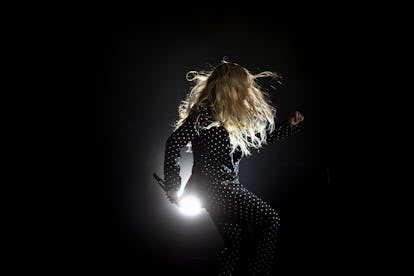 AFP/Getty Images
Usually after the darkest experiences, when you wake up there's that moment of blissful forgetting. It lasts just a second before the horror comes flooding back in. We experienced this collectively this morning, emerging from a tortured sleep after a nightmarish 3 a.m. victory for Donald Trump over Hillary Clinton. It's been a hard day, and given the policies and toxic words he's spewed out, there will be more hard days to come. But we must find comfort and beauty where we can. Music, as always, can offer a palliative.
We've rounded up 19 songs to help you cope today, tomorrow, and on. Maggie Rogers recorded the low-fi "# (Demo)" in response to this morning's news; Lorde took to Twitter to recommend Kate Bush's "Running Up That Hill" and Rihanna, Paul McCartney, and Kanye West's "FourFiveSeconds." Some of our selections are straight-up melancholy, while others are thumping protest anthems. And still others are of the kind of resilient optimism that might be just the antidote to a Trump victory right now. We hope this helps.