Party Like It's 1999: Why We're Stoked the '90s Are Back. Again.
O.J. The Clintons. Isaac Mizrahi (!?). What year is this again? The 1990s, a decade never far removed from the public's imagination, are back and back with a vengeance.
---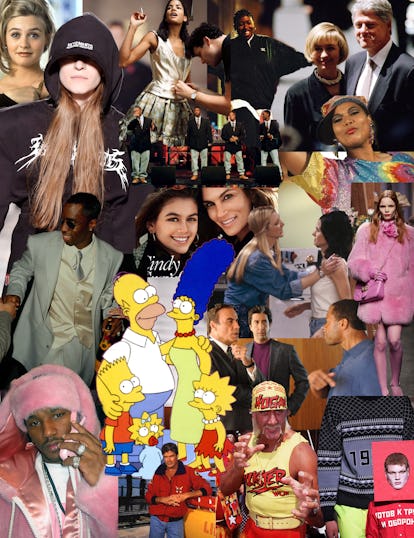 The '90s are back!
Again.
In fashion, there are fewer claims more rote than this one. But the habitual recycling of trends notwithstanding—and there are plenty of chokers, flannel, and fanny packs these days—a look around us really does seem to reveal that we are living through a bizarro re-examination of the decade that gave us grunge and Generation X.
Right now, we are awaiting the return of the Clintons to the White House. Monica Lewinsky is giving TED talks. Anita Hill is testifying again, this time on HBO's Confirmation. We are even talking about Hulk Hogan, but in a contemporary Internet twist, he was the one being bullied. Woe is me, brother!
Meanwhile, the public is entertaining new evidence in the O.J. Simpson murder case. In fact, thanks to Ryan Murphy's The People v. O.J. Simpson, many of us learned, as if for the first time, that there were in fact two white Broncos and that America's current first family, the Kardashians, saw the whole melee unfold from the very front row, surely planting ideas about their own plots to take over the media industrial complex.
In hindsight, the O.J. case, in terms of complete and total audience engagement, may have anticipated the choral voice of our public consciousness that is Twitter. ESPN's upcoming documentary, O.J.: Made in America, is an exhaustive seven-and-a-half-hour examination of the nation's social and racial climate during the trial. And Martin Sheen is even producing a docu-series called Hard Evidence: O.J. Is Innocent, which Sheen will narrate in the same dignified rasp he used to play the beloved President Bartlett in The West Wing, which premiered in 1999.
Recently, New York's Jewish Museum opened a major show devoted to Isaac Mizrahi, fashion's boy wonder of the '90s. Following quickly on its heels, the RISD Museum put on a solo retrospective of the designer Todd Oldham, an essential figure of the New York fashion world during that era, and an ambassador of fashion to the MTV generation through his DIY "Todd Time" segments on MTV's House of Style.
The host of the original House of Style, of course, was Cindy Crawford. Although she is freshly retired from modeling, at 50 years old she still managed to cause the Internet to gush over her sharing the cover of French Vogue with her 14-year old daughter, Kaia Gerber, who is the spitting image of Mom. She's just getting started, but Gerber is poised to lead a new generation of supermodels, along with Kendall and Gigi, who by their mastery of social media will eventually lord over the universe of branded entertainment and culture, in the same way the original supermodels—Cindy, Naomi, Linda, Christy, and Kate—did in the '90s. (Not that the 1.0 versions have gone away entirely; Naomi is still kicking around.)
There are legacies—like the wonderful O'Shea Jackson Jr., who played his father Ice Cube in Straight Outta Compton—and there are remakes. The Gilmore Girls reboot will only throw more gasoline on the cult that has arisen around that program. Fuller House was savaged by critics, but the new Baywatch movie, with Zac Efron and The Rock, looks like harmless fun. (Hasselhoff is back too, according to IMDb.) Speaking of The Rock, he has come a long way from his '90s WWE days, even if we are still calling him The Rock. And it's nice to have you back, Michael Keaton. Maybe the Spotlight team can investigate where you were for the last decade.
While the imminent I Love the '90's Tour, with Vanilla Ice, Coolio, and Salt N' Pepa, sounds more like cynical marketing than anything bubbling up in the culture, the return of Missy Elliott, she of the genre-changing music videos, and Gwen Stefani, she of the eternal teenagerdom, are both very welcome. And of course, we have always had a place in our hearts for Puff Daddy, who has ascended to the status of lovable mascot for living very lavishly. He recently announced that he will reunite with his Bad Boy Records #fam to play two dates in May at the Barclays Center in Brooklyn. (Also, Faith Evans confirmed they are working on a Biggie hologram! Does this mean Coogie sweaters are also coming back?)
The generation of singers that grew up on Boyz II Men, R. Kelly, and Ginuwine—like Frank Ocean, The Weeknd, and Zayn Malik—have given R&B edge, sex appeal, and relevance again by bringing vulnerability and a social consciousness into the bedroom. A$AP Rocky, who has inherited the mantle of Harlem's most fabulous rapper from Cam'ron, even used his fashionable pull to make Guess happen all over again. And for those who embraced grunge once upon a time, now there is athleisure.
In art, two hallmarks of the '90s Post-Minimalist era—performance and relational aesthetics—are now are being practiced on social media and on digital 3-D platforms by young stars like Amalia Ulman and Ian Cheng.
And the most popular show on TV in the '90s, Friends, is also maybe the most popular show streaming on Netflix today.
Are we getting a little overly nostalgic? Not entirely. While the rise of the Internet has also given rise to the cult of looking backward, there are others who have seized on our weakness for the past and used it to advance the conversation: Demna Gvasalia, designer of fashion's hottest property, Vetements, is following in the footsteps of '90s icon Martin Margiela, in whose studio Gvasalia first learned how to give new life to clothes we took for granted—except now he is adapting that ethos in a fun, irreverent new way for the street-style generation. Alessandro Michele has us talking about Gucci again, but for a different reason than the slick, sexy Tom Ford era. And Gosha Rubchinskiy is pillaging the fall of the Soviet Union for his buzzy collections.
Let's also not forget the 90's upstarts who have matured into middle age, and kept us talking. There is the Internet, Raf and Hedi, and Leonardo DiCaprio, who cruised his way to an Oscar in part by embarking on the awards circuit with his Titanic costar Kate Winslet, making girls and Academy voters swoon all over again like it was 1998. And then there's Vice, which started out as a grimy little magazine in 1994 and is now a media empire worth $2.5 billion. Their brand is still youthful transgression, except now its brand of gonzo New Journalism airs on cable TV.
Most people would agree that New Journalism first appeared with the likes of Tom Wolfe and Truman Capote in the '70s. But there's a little-known memoir, The Romantic '90s, by Richard La Gallienne, an English émigré to New York, that claims otherwise. One passage was brought to light by The New Yorker: Several of La Gallienne's writer friends, he said, "constituted what was called 'The New Journalism,' marked by an aggressive, menacing individualism, a natural and often savage style of writing, which brought a peculiar freshness of atmosphere as of oncoming storm into the placid, conventional newspaper world.'"
La Gallienne's memoir was published in the '90s—the 1890s. So, maybe there is nothing that's ever truly new. Which raises the question: Will we leave the '90s behind, like, ever? As if.
See Bradley Cooper, Seth Rogen, Jake Gyllenhaal, and Paul Dano audition for Alicia Silverstone's part in the 90's classic, Clueless.
Kate, Gwyneth, Winona: Behold the Beauties of the '90s
A classic red lip paired with messy hair was a perfect combination that made Winona Ryder an it girl of the '90s–and one half of the hottest couple.
Actor Johnny Depp and actress Winona Ryder attend the 1990 NATO/ShoWest Convention on February 8, 1990 at Bally's Hotel and Casino in Las Vegas, Nevada. Photo by Ron Galella, Ltd./WireImage.
There's a reason she's one of the original supermodels. Queen of the '90s Cindy Crawford wore a bold brow and red lip better than anyone else.
Model Cindy Crawford on August 2, 1990 at the Metropolitan Museum of the Art in New York City. Photo by Ron Galella, Ltd./WireImage.
That volume! That matte lip! Julia Roberts inspired many women of the '90s to attempt her look. And none could pull it off quite like her.
Julia Roberts during The 47th Annual Golden Globe Awards at The Beverly Hilton Hotel in Beverly Hills, California, United States. Photo by Ron Galella, Ltd./WireImage.
Naomi Campbell is barely wearing a dress, but is certainly wearing lipstick.
Naomi Campbell during on April 11, 1994 at Hotel Macklowe in New York City, New York, United States. Photo by Ron Galella, Ltd./WireImage.
Remember piecey bangs? Gwyneth Paltrow may be trying to forget.
Actress Gwyneth Paltrow attends "A Perfect Murder" New York City Premiere on June 1, 1998 at the Sony Theatres Lincoln Square in New York City. Photo by Ron Galella, Ltd./WireImage.
Ultimate '90s it girl Liv Tyler knew to keep her hair simple with a lip like that!
Liv Tyler attends Boathouse Rocks Benefit for AIDS on June 29, 1992 at Central Park in New York City. Photo by Ron Galella, Ltd./WireImage.
Claire Danes celebrated her role in '90s classic "Romeo + Juliet" with a spiky updo and, of course, a red lip.
Actress Claire Danes attends the "Romeo + Juliet" Hollywood Premiere on October 27, 1996 at Mann's Chinese Theatre in Hollywood, California. Photo by Ron Galella, Ltd./WireImage.
Rosy cheeks and glossy lips made Amber Valletta one of the most natural beauties of the decade.
Model Amber Valletta attends the 1997 Spring Fashion Week: Todd Oldham Fashion Show on October 29, 1996 at Bryant Park in New York City, New York. Photo by Ron Galella, Ltd./WireImage.
Sofia Coppola took her red lip further than any other.
Sofia Coppola attends Anna Sui Fashion Show on March 31, 1993 at the New York Public Library in New York City. Photo by Ron Galella, Ltd./WireImage.
A tan, some lip gloss, and frosted eyeshadow? Yes, that's Cameron Diaz under all that look!
Cameron Diaz during "My Best Friend's Wedding" New York City Premiere Party at Plaza Hotel in New York City, New York, United States. Photo by Ron Galella/WireImage.
The only thing that seems to have changed over the years is Ivanka's lipcolor. Go back to the '90s, baby!
Donald Trump and Ivanka Trump during Valentine's Day And Birthday Party For Ivanka Trump at Chaos in New York City, New York, United States. Photo by Ron Galella, Ltd./WireImage.