The Best Beauty Tips from the 2015 Victoria's Secret Fashion Show
Victoria's Secret Angels Adriana Lima, Joan Smalls, and Candice Swanepoel share their best beauty tips backstage at the 2015 Victoria's Secret Fashion Show.
---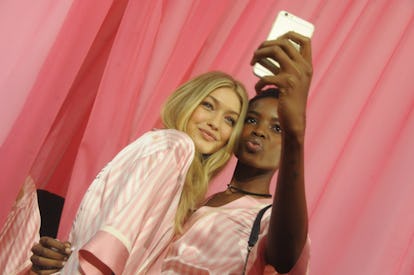 If you're looking for beauty advice, you could find a worse place for sources than backstage at the Victoria's Secret Fashion Show. With glowing makeup by Dick Page and shiny, bouncy curls by Akki for Beachwaver, models like Joan Smalls, Adriana Lima, and Candice Swanepoel were thrilled to snap photos and share pearls of wisdom before they slipped into their wings. "Good eyebrows!" insists Swanepoel of the most essential beauty feature—on or off the runway. "You gotta spend time on your eyebrows! I like to fill mine in quite a bit because it really shapes your face."
For fans of those signature waves, Smalls has the secret to their effortless look: "Brush out the curls after you curl the hair," the supermodel says. "It looks more natural and bouncy, rather than super set."
For eyes that sparkle and lashes that fan, "Always add a little bit extra on the corners of your eyes," says the face of PINK (and mascara aficionado) Rachel Hilbert. For everything else, "Just work it!" says Elsa Hosk.
While the show's new faces Gigi Hadid and Kendall Jenner certainly require no beauty advice, one veteran Angel says they already have everything it takes. "It's all about personality!" beams Adriana Lima. "They're gonna nail it!"
Backstage at the 2015 Victoria's Secret Fashion Show
Gigi Hadid and Maria Borges backstage at the 2015 Victoria's Secret Fashion Show
Photo by Sherly Rabbani and Josephine Solimene
Backstage at the 2015 Victoria's Secret Fashion Show
Photo by Sherly Rabbani and Josephine Solimene
Backstage at the 2015 Victoria's Secret Fashion Show
Photo by Sherly Rabbani and Josephine Solimene
Maria Borges backstage at the 2015 Victoria's Secret Fashion Show
Photo by Sherly Rabbani and Josephine Solimene
Backstage at the 2015 Victoria's Secret Fashion Show
Photo by Sherly Rabbani and Josephine Solimene
Adriana Lima backstage at the 2015 Victoria's Secret Fashion Show
Photo by Sherly Rabbani and Josephine Solimene
Backstage at the 2015 Victoria's Secret Fashion Show
Photo by Sherly Rabbani and Josephine Solimene
Kendall Jenner backstage at the 2015 Victoria's Secret Fashion Show
Photo by Sherly Rabbani and Josephine Solimene
Backstage at the 2015 Victoria's Secret Fashion Show
Photo by Sherly Rabbani and Josephine Solimene
Backstage at the 2015 Victoria's Secret Fashion Show
Photo by Sherly Rabbani and Josephine Solimene
Backstage at the 2015 Victoria's Secret Fashion Show
Photo by Sherly Rabbani and Josephine Solimene
Backstage at the 2015 Victoria's Secret Fashion Show
Photo by Sherly Rabbani and Josephine Solimene
Backstage at the 2015 Victoria's Secret Fashion Show
Photo by Sherly Rabbani and Josephine Solimene
Backstage at the 2015 Victoria's Secret Fashion Show
Photo by Sherly Rabbani and Josephine Solimene
Gigi Hadid backstage at the 2015 Victoria's Secret Fashion Show
Photo by Sherly Rabbani and Josephine Solimene
Backstage at the 2015 Victoria's Secret Fashion Show
Photo by Sherly Rabbani and Josephine Solimene
Backstage at the 2015 Victoria's Secret Fashion Show
Photo by Sherly Rabbani and Josephine Solimene
Lily Aldridge backstage at the 2015 Victoria's Secret Fashion Show
Photo by Sherly Rabbani and Josephine Solimene
Backstage at the 2015 Victoria's Secret Fashion Show
Photo by Sherly Rabbani and Josephine Solimene
Rachel Hilbert backstage at the 2015 Victoria's Secret Fashion Show
Photo by Sherly Rabbani and Josephine Solimene
Backstage at the 2015 Victoria's Secret Fashion Show
Photo by Sherly Rabbani and Josephine Solimene
Gigi Hadid and Maria Borges backstage at the 2015 Victoria's Secret Fashion Show
Photo by Sherly Rabbani and Josephine Solimene
Backstage at the 2015 Victoria's Secret Fashion Show
Photo by Sherly Rabbani and Josephine Solimene
Backstage at the 2015 Victoria's Secret Fashion Show
Photo by Sherly Rabbani and Josephine Solimene
Backstage at the 2015 Victoria's Secret Fashion Show
Photo by Sherly Rabbani and Josephine Solimene
Kendall Jenner backstage at the 2015 Victoria's Secret Fashion Show
Photo by Sherly Rabbani and Josephine Solimene