Seeking Gold Once More—Defending Olympic Champion Gabby Douglas Stages a Comeback at 20
"Why not give it all another chance?"
---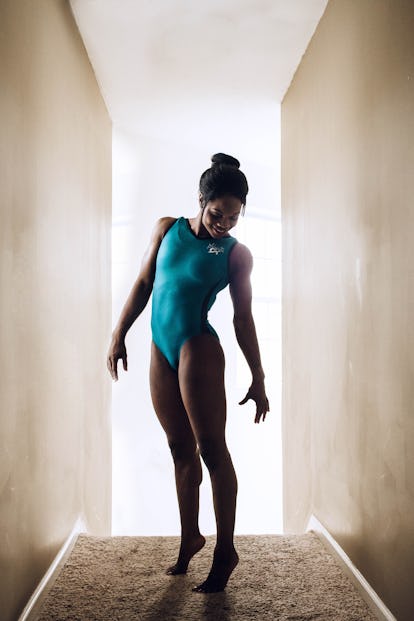 When Gabby Douglas was crowned the women's all-around gold medalist in London four years ago, she became an overnight sensation. The world fell in love with the then 16-year-old powerhouse gymnast with the megawatt smile and the irrepressible sparkly personality. She was the success story Americans hoped for at the Games—just a young girl from Virginia Beach with big dreams who became one of only a handful of American female gymnasts to ever win the sport's highest honor (in addition to leading her team, nicknamed the Fierce Five, to gold).
Few, especially in a sport where athletes peak at an early age, ever thought she would be back for more. But Douglas is not one to abide by conventional wisdom, and this summer she'll be back for more at the 2016 Summer Olympics in Rio de Janeiro. At 20, she's attempting something unprecedented for four decades – not since 1968, when Vera Caslavska of Czechoslovakia defended her gold medal in the all-around competition, has a gymnast won the women's all-around competition a second time.
"I don't see it as pressure, I see it as such a great opportunity," said Douglas of her Olympic return. "Everything is going really well and my body and my mind are in a good place. Why not give it all another chance? I just to make the best out of it."
From total underdog to reigning queen bee, Douglas will enter into these Games in a very different position than she was last time. In the past four years, she's built a small empire around the Gabby Douglas brand, which now includes a New York Times bestselling book, a range of leotards, major brand endorsement deals (Nike, Kellogg's, Proctor & Gamble), her new Gabbymojis, and a new TV show on Oxygen called Douglas Family Gold. As of last week, she even now has her own Barbie.
"My mom and I were a little bit hesitant about doing the show—I wasn't sure about having cameras in my face all the time, 24/7, because my main focus is Rio," said Douglas. "But we talked to the producers and they were like we don't want to distract you from going for your dreams. So, we agreed to do it." (The Douglases are also are also executive producers.)
Despite all the business endeavors, Douglas has remained steadfastly committed to her work in the gym. After taking more than a year off from gymnastics to live a "normal" teenage life, and switching coaches twice, she's been spending between four and six hours a day training with new coach Kittia Carpenter. Douglas said her routine hasn't changed much since the last Olympics – she still prays before every meet (a ritual she's stuck to since she was a little girl) and she still eats the exact same thing before competing. (Oatmeal or eggs, toast, and fruit in the morning. She'll add asparagus if the competition is in the afternoon.)
"For the most part, everything has gone really smoothly and easily," said Douglas, who currently trains in Ohio. "One thing that can be bad is those days when you are having a rough day in the gym and things just aren't going your way. Not sticking things.. trying things over and over and still not getting the results you want." It wasn't all that easy—the Olympic trials were a prime example of things not really going her way. She made the cut, but just barely after finishing seventh in the all-around competition.
On those days, she leans on her family, her faith, and some good tunes to turn her mood around. "They know if I walk in all peppy versus in a mood—they are like, 'Oh, she must be tired or something. They're my foundation,'" said Douglas. "I also like to meditate on a lot of positive scriptures and I like to jam out to my music in the car."
Next month, she'll have her whole family on the sidelines cheering for her in Brazil. She's also excited to catch up with her Olympic "family" while she's there. "Alyson Felix, Ryan Lochte, and I would love to see Serena again," she said. "Athlete to athlete, we all know the struggle we are going through and the hard days spent in the gym and all the preparation. We can all relate on that level."
2016 Summer Olympics: Meet the Stars of Team USA
For the first time in 92 years, rugby will return to the Olympic games. This year is something of a trial run for the sport; if all goes well in Rio and in Tokyo in 2020, rugby could be added to the official Olympic calendar for years moving forward. Just as it's a relative latecomer to the Games (the women's team even more so, still being something of a rarity even in England), so too its stars are relative latecomers to the sport; Jessica Javelet, 31, started her athletic career in field hockey before switching to rugby, while Megan Bonny and Kelly Griffin both discovered rugby in college. The sport is known as "sevens," a reference to the seven-a-side formation on field and differentiating it from the more mainstream 15-a-side version. Long a mainstay of the athletic world on the other side of the Atlantic, rugby has less of a footing among American audiences — but the nascent U.S. women's team hopes to change all that.

Text by Katherine Cusumano. Photo by Nathaniel Wood. Produced by Biel Parklee.
Not all that long ago, two-time ITU Triathlon World Champion Gwen Jorgensen had a desk job as an accountant at Ernst & Young. She only started to really cut down on her day job when she qualified for the 2012 Olympics in London and realized she had great potential in the sport. The lanky, 5'10" triathlete from Wisconsin finished 38th in London after getting a flat tire on the course and has been seeking an Olympic comeback ever since. Jorgensen, named USA Triathlon Athlete of the Year in 2013, 2014, and 2015, is definitely one you'll want to keep you eyes next month in Rio, she's sure to make plenty of noise.

Text by Kristin Tice Studeman. Photo, hair, and makeup by Jaione Amantegi Estudio. Produced by Biel Parklee.
American cyclist Taylor Phinney, 26, comes from a family of Olympians. His father, Davis Phinney, is a professional road cyclist and his mother, Connie Carpenter-Phinney, has not only won a gold medal for cycling, but also holds the title of youngest female athlete to ever compete in the Winter Olympics (she was 14 at the time). So, it's no surprise that Phinney Jr. was on Team Slipstream by the age of 15. In 2008, Lance Armstrong himself inducted him into the Trek Livestrong under-23 team. In 2014, Phinney suffered a serious injury while riding in the United States National Road Race Championships, but he eventually got back on the horse a year later with the dream of making it to Rio in 2016.

Text by Emilia Petrarca. Photo by Morgan Rachel Levy. Produced by Biel Parklee.
Canoeing was never not an option for Olympian Casey Eichfeld, who will enter his third games with Team U.S.A. this August. The 26-year-old slalom canoer (a sport that involves paddling through gates on turbulent waters) started at age two, but his parents owned a boat for him even before he was born. By the time he was five-years-old, Eichfeld had begun his whitewater career, balancing his boating with dancing for a time in order to improve his lower back flexibility. Now, after an impressive showing at the 2015 Pan American Games, Eichfeld approaches Rio with the momentum of a seasoned vet — he participated in 2008 and 2012, though he has yet to medal. Could this be the year?

Text by Katherine Cusumano. Photo by Patricia del Carmen. Produced by Biel Parklee.
Lauren Kieffer, 29, has been riding horses since she was a little girl. "I always loved horses and my parents got me riding lessons for my birthday when I was six, I was hooked," said the Mount Carmel, Illinois native. When she first started riding, she loved jumping, so she competed in the hunter and jumper disciplines, but she is headed to Rio next month as part of the U.S.'s eventing team. She's been spending roughly eight hours day per day training in both Vermont and Florida as she preps for her Olympic debut with her horse Veronica. "I don't like to think about 'what if's," she said. " I am focused on preparing myself and my horse."

Text by Kristin Tice Studeman. Photo by Michael Beckert. Produced by Biel Parklee.
Twenty-three-year-old Maggie Steffens was all set to start the school year at Stanford a few years when she took a break to keep training with the U.S. National Water Polo team. It turned out to be a very wise decision, since she ended up bringing home a gold medal from the 2012 Games. Also on the team that year? Her older sister, Jessica, a two-time medal winner herself, and one of many water polo players in the family. (They all share a dog named Speedo.) Now enrolled at Stanford, Steffens is using her break this summer to head to Rio, and hopefully match up to her sister's medal count.

Text by Stephanie Eckardt. Photo by Nathaniel Wood. Produced by Biel Parklee.
It's no mystery why backstroke extraordinaire Elizabeth Beisel also goes by the name of "Diesel"—at 23, she already has two Olympics and two medals under her belt. Beisel started with swimming at age 5 in Rhode Island, but quickly got used to competing outside country's smallest state. By 14, she was at the World Aquatic Championships in Australia; by 15, she was the youngest swimmer on the U.S. team at the Games in Beijing. Having graduated from the University of Florida, Beisel's now thinking about a career in media – after the Olympic gold she's eyeing this summer, of course.

Text by Stephanie Eckardt. Photo by Alexandra Brown. Produced by Biel Parklee.
Gabby Douglas is attempting what some consider basically impossible—the reigning Olympic all-around gold medalist is heading to Rio this summer for a second time at the Games, and you can bet she's got her sights set on nothing short of gold. Not since 1968, when lighting struck twice for Vera Caslavska, has an American female gymnast repeated as a gold medalist. But if anyone is up to the challenge, it's Douglas. Now 20, the fiercely talented young gymnast has been working harder than ever, both in the gym and out. She has a new Oxygen channel show called 'Douglas Family Gold' and just released her own emoji app, Gabbymojis. When the Games kick off in Rio, you can be sure she will be one of the most watched athletes there.

Text by Kristin Tice Studeman. Photo by Thomas Sawyer. Produced by Biel Parklee.
Although Julie Johnston's position is defense, you don't want to encounter her anywhere on the soccer field. The 24-year-old American player both scores goals and blocks them, and has developed a reputation for scoring via free-kicks. Born in Mesa, Arizona, Johnston played both in high school and for the Santa Clara Broncos during her time at the university. In 2012 she qualified for the FIFA Under 20 Women's World cup and was drafted the following year to the Chicago Red Stars. At the end of her first season, she was named NWSL Rookie of the Year. Most recently, she played in the 2015 Women's World Cup in Canada and was nominated for the golden ball award, despite scoring an own-goal in the final minutes.

Text by Emilia Petrarca. Photo by Nolis Anderson. Produced by Biel Parklee.
Don't underestimate Morghan King, 30, just because she barely scrapes five feet tall — she can lift twice her weight without batting an eye. The newly minted Olympian and Seattle native has already qualified for the weightlifting team at Rio with just four years' professional experience under her belt; she began lifting in 2011, taking it up full-time in 2012. A quick scroll through her Instagram also reveals a dog lover and budding yogi (and among those photos, there are numerous videos of King lifting barbells double her size). No American has won an Olympic medal in weightlifting since the sport was inducted into the summer Games in 2000, but King's heading to Brazil hoping to change all of that.

Text by Katherine Cusumano. Photo by Morgan Rachel Levy. Produced by Biel Parklee
Swimmer Haley Anderson, 24, is a California girl. She grew up in Santa Clara swimming with her sister, Alyssa, 25, who competed alongside her at the World Aquatics Championships in 2009. Anderson then went on to swim for USC's team, qualifying for the Olympics in 2012, where she earned a silver medal. Her sister, however, won the gold that same year with the U.S. team. This year, the sibling rivalry continues with both of them on the national team.

Text by Emilia Petrarca. Photo by Nathaniel Wood. Produced by Biel Parklee.
As if being a badass fencer wasn't enough, Miles Chamley Watson, 26, also doubles as a male model in his spare time. Born in London but now a New Yorker, he doesn't have much free time these days as he prepares for Rio (his second Olympic Games). He spends roughly seven hours a day right now training at The Fencers Club in Chelsea and strength training at The Dogpound in hopes of coming home with gold this summer.

Text by Kristin Tice Studeman. Photo by Michael Beckert. Produced by Biel Parklee.
With four Olympics under his belt, including a silver medal from Beijing, 34-year-old water polo star Tony Azevedo is certainly no stranger to the Games, the biggest sports stage of them all. Not only will this summer mark his return to the Games, but also a homecoming for the Brazil-born athlete, who was born in Rio and trained for most of the past three years in Sao Paulo. Officially, he counts Long Beach as home these days, where he first fell in love with the sport while playing under the coaching direction of his dad, and he currently lives with his wife and son.

Text by Kristin Tice Studeman. Photo by Nathaniel Wood. Produced by Biel Parklee.
Three-time All American and two-time NCAA champion Monica Aksamit might be on the young end of the fencing spectrum (Olympic teammate Keeth Smart, with whom she shares a training space in Manhattan Fencing Center, is 37) at 26, but she knows a thing or two about jabbing and sparring. A fencer since age nine, she graduated from Pennsylvania State University in 2012 with a degree in kinesiology and subsequently committed herself to landing a spot on the Olympic team for Rio. She also coaches children's fencing and takes the occasional modeling gig. But when she's not deep in training or teaching, she makes time to 'gram her two Dalmatians, apparently a lifelong obsession spanning 101 Dalmatians to real life.

Text by Katherine Cusumano. Photo by Michael Beckert. Produced by Biel Parklee.
It hasn't been easy for Olympic judo athlete Dartanyon Crockett, 25, to make his way to the top. Born with Leber's disease, which has left him legally blind, his mother died of an aneurysm when he was eight and he grew up with his drug addicted father (who is now sober as well as a fan) in East Cleveland. As an outlet, he began wrestling in high school and eventually found his way to Judo. In 2012, he won the bronze medal at the Paralympic Games and became a judo world champion in 2014.

Text by Emilia Petrarca. Photo by Morgan Rachel Levy. Produced by Biel Parklee. Photography Assistant: Stephanie Watters.
'Inspiring' doesn't even being to describe 24-year-old swimmer Jessica Long. Born in Siberia with fibular hemimelia (she was missing ankles, heels, fibulas, and most of her foot bones), Long's legs were amputated when she was 18 months old. She didn't let that stop her one bit—she became the youngest athlete on the U.S. Paralympic Swim Team at the 2004 Games in the Athens and is now a 17-time Paralympic Medalist (with 12 gold medals to her name). She went on to receive the ESPN Best Female Athlete with a Disability ESPY Award in both 2007 and 2012, along with the U.S. Paralympic SportsWoman of the Year that same year.

Text by Kristin Tice Studeman. Photo by Morgan Rachel Levy. Produced by Biel Parklee. Photography Assistant: Stephanie Watters.
Do not mess with Adeline Gray. The 25-year-old, 5'10'' wrestler trained with her father growing up in Denver, Colorado and went on to play for DeVry University. In 2008, she won the title of Junior World Champion, then went on to be the University World Champion in 2012, and is now a three-time World Champion, winning the World cup in both 2014 and 2015. The only games left for Gray to pin down are the Olympics, so watch out.

Text by Emilia Petrarca. Photo by Michael Beckert. Produced by Biel Parklee.
Could he be America's next great boxing champion? Quite possibly. The amateur boxer from Newark, who gets his first name from the late rapper Tupac Shakur, is the number one 18-year-old in the country and a youth Olympic gold medalist. "I promise no man want it as bad as I want it," he wrote in a recent Instagram post, quoting rapper YFN Lucci. But you don't need to look at his Instagram to know that this young firecracker is ready to shake things up in Rio—one glimpse at his face, which has 'determination' written all over it, says it all. Shakur Stevenson is not a name to forget in the road to Rio.

Text by Kristin Tice Studeman. Photo by Morgan Rachel Levy. Produced by Biel Parklee. Photography Assistant: Stephanie Watters.
Twenty-eight-year-old Dagmara Wozniak is a purple-haired Polish girl with serious sabre skills. She immigrated to America with her parents when she was just one-year-old, moving to New Jersey where she enrolled in the Polish American Fencing School at age nine. In 2008, she entered the Summer Olympics as an alternate fencer for the U.S. team and again in 2012 as a full-fledged competitor. In 2011, she helped her team win a bronze medal at the World Fencing Championships, but is going for the gold at the games this summer.

Text by Emilia Petrarca. Photo by Michael Beckert. Produced by Biel Parklee.
Keeth Smart was the vice president of a major bank until just last year, but that's hardly the 37-year-old's only major title: he also earned a silver medal from the 2008 Beijing Olympics, the first American win for male sabre fencing since 1948. Smart first took up the sport decades ago, at the urging of his parents while growing up in Brooklyn, and ended up sticking with it even through getting his MBA. Now, he's COO of his own company, Physiclo—and, of course, gaming up for this summer's competition.

Text by Stephanie Eckardt. Photo by Michael Beckert. Produced by Biel Parklee.
Meet the stars of Team USA 2016
Of the Zika concerns many of her fellow athletes are dealing with, she said, "At the end of the day, are we going to focus on going to the virus, or going to the Olympics and doing our job? We are trained to combat these obstacles. We are like a bunch of soldiers, we are going to go over there to do our thing."
Once she returns from Brazil, the ball's up in the air as to Douglas' next steps for the long-term. In the meantime, she's excited to let loose and have a little fun after the Games.
"Once I am done with gym, we will do outrageous things. Nothing too outrageous, but I will be allowed to do more," she said.
In Douglas's world, that means retail shoe therapy (she's admittedly a Christian Louboutin fanatic) and a trip the amusement park. "I love roller coasters. There is one by where I train, a ride called the Millennium, and it goes like 90 miles per hour and it's straight up and straight down and it is so much fun."
Watch W's most popular videos here: