Ariana Grande's 2018 MTV VMA Performance of "God Is a Woman" Was a Work of Art
She was surrounded by a group of diverse female dancers.
---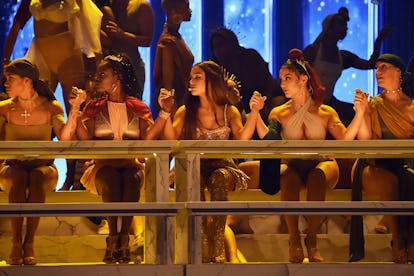 Kevin Mazur/Getty Images
If God is a woman, she's surely pretty happy with the image Ariana Grande has created of her. On Monday night, just a few weeks after Grande dropped the stunning music video for the aptly titled track "God Is a Woman," and only three days after the release of her fourth album Sweetener, the pop star took the stage in New York City's Radio City Music Hall to serenade the audience of the 2018 MTV Video Music Awards with a pitch-perfect rendition of the single.
For the showstopping performance, Grande donned a bejeweled gold crop top, miniskirt, and thigh-high boots—and her long chestnut brown hair down and out of its usual high pony. The singer was surrounded by a diverse group of dozens of female dancers, all of different skin tones and body types, who wore gauzy sashes, head scarves, and bodysuits. Some flanked Grande at a long table, reminiscent of Leonardo da Vinci's The Last Supper, while others posed statuesquely by the massive pillars and majestic galaxy background behind the tableau. As the song went on, Grande and her girl squad alternated between slowly dancing and crawling across the set in perfect synchronization, and remaining motionless while draped across the table and stage. At the very end, after the dancers had belted out the final few bars of the song along with Grande, her mom, grandma, and cousin Lani joined the group onstage for maximum girl power.
The live performance of the song—its first-ever—clearly referenced the visuals of the "God Is a Woman" video, which Grande released in mid-July. In the video, Grande channeled a wide variety of powerful women, fitting for a song about being empowered in her own sexuality. In the clip, she floats in a paint-filled pool resembling one of Georgia O'Keeffe's female anatomy–inspired paintings, takes on the role of the mythical she-wolf mother of Romulus and Remus, and fills in for God in her all-female interpretation of Michelangelo's The Creation of Adam. Noticeably missing from the VMAs performance, however, was the quick cameo Madonna makes partway through the video, reciting a Bible verse while Grande, wielding a sledgehammer, lip-syncs along.