3.1 Phillip Lim Spring 2015: Backstage Beauty
Makeup artist Francelle Daly explains the just-rolled-out-of-bed beauty look she created for the 3.1 Phillip Lim Spring 2015 show.
---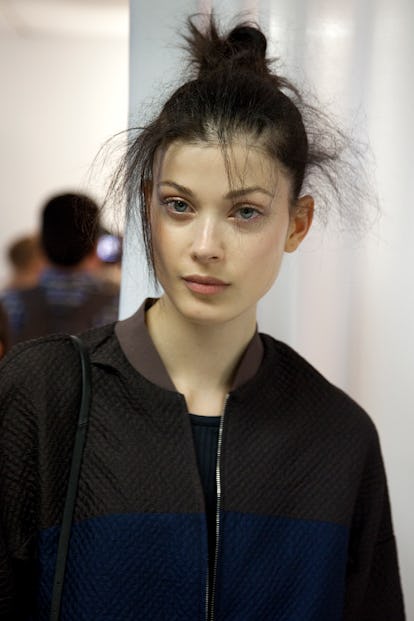 Photographer: Olivia Locher
"My inspiration is how the sun would hit your face if you woke up in a sun-filled loft apartment," said Francelle Daly of the beauty looks she created for the 3.1 Phillip Lim Spring 2015 show. That just-rolled-out-of-bed look, however, did take some work. After concealing imperfections with NARS tinted moisturizer ($42, narscosmetics.com), stick concealer, and loose powder, Daly layered NARS Reckless and Jubilation Dual-Intensity blushes (both new products for Spring 2015) on top of one another in what she calls a "sandwich technique." Eyebrow pencil, brow gel, and two coats of black mascara lightly defined the eyes. Menwhile, manicurist Elisa Ferri painted fingertips with NARS's brownish nude Zakynthos polish ($20, narscosmetics.com) and Paul Hanlon created wispy, messy buns. Playing up the bedhead idea, he backcombed and crimped one-inch sections around the hairline, using Tresemme Climate Protection Finishing Spray ($4.79, tresemme.com) to keep them in place and dry shampoo to add thickness. "All the hairs that normally girls want to get rid of we're bringing out," he said.
Photos: 3.1 Phillip Lim Spring 2015: Backstage Beauty
Backstage at 3.1 Phillip Lim Spring 2015.

Photographer: Olivia Locher
Backstage at 3.1 Phillip Lim Spring 2015.

Photographer: Olivia Locher
Backstage at 3.1 Phillip Lim Spring 2015.

Photographer: Olivia Locher
Backstage at 3.1 Phillip Lim Spring 2015.

Photographer: Olivia Locher