5 Cool Beauty People to Follow on Instagram Now
From Evanie Frausto's surreal creations to the artist behind @makeupbrutalism, these are five makeup visionaries to watch.
---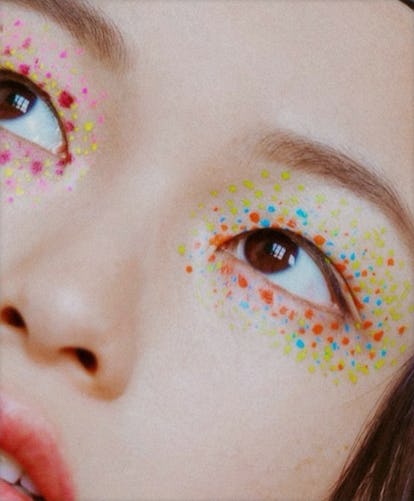 Courtesy of @emikaneko.
Amid concerns about proper hygiene protocols and with many employees lacking the luxury of working from home, not to mention the cancellation of conventions such as Sephora, the beauty industry is grappling with how to handle the current global health crisis, albeit with mixed success.
Admittedly, now is not the time to be touching one's face—all the more reason for a little online inspiration. Still, with new products launched every week and countless beauty accounts (there's even a Fenty Beauty TikTok House now) it can be hard to keep up. Look no further: from Grimes' go-to hairstylist to the Budapest–based makeup artist embracing the "ugly," five hair and makeup artists you should be following, here.
Fresh off a cover with Kendall Jenner and Maurizio Cattelan, Frausto is known for his extraordinary, over-the-top coiffures and collaboration with Renell Medrano on Peluca, as well as an extensive print and celebrity portfolio.
The beauty pro behind the gilded lids and cheeks—not to mention the brand's tiny floral appliqués from last season—at Collina Strada's fall 2020 show, Allie Smith's Instagram feed is a mix of makeup and mood board that's easy to get lost in.
There's a reason why Emi Kaneko is a W favorite: the makeup artist does understated beauty, pops of color, and bejeweled looks with equal ease. Her clientele runs the gamut of pop stars to legendary models, not to mention having done work for Glossier, Gucci, and more.
The makeup artist behind not one, but two popular Instagram accounts—@makeupbrutalism and @uglymakeuprevolution—Magyar is known for her curation of the weird and wild. From 3D objects glued on eyelids to technicolor face paint, she isn't afraid to experiment.
A frequent cohort of Grimes, this L.A.-based hair stylist's résumé also includes Rina Sawayama and Paris Hilton, plus work with photographer and artist Charlotte Rutherford.