The 5 Halloween Films to Watch This Spooky, Socially Distanced Holiday
From comedies like "Hocus Pocus" to campy classics like "Scream" or the bone-chilling horror of "The Shining."
---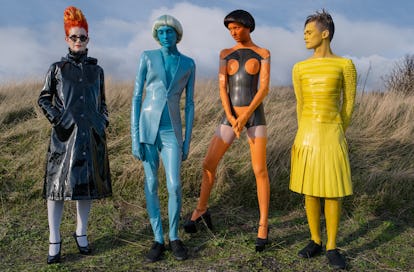 Photographed by Tim Walker; Styled by Sara Moonves.
Welcome to the W Movie Club, a new series in which W magazine's editors pick five iconic films to watch while in quarantine. This week, we're sharing our top five best flicks to celebrate a different kind of Halloween this year—from campy classics like Scream to the bone-chilling horror of The Shining.
Hocus Pocus
Is it really Halloween if you didn't watch Hocus Pocus at least once? If you haven't had the chance, be sure to add this witchy throwback to your Halloweekend movie lineup. If not for the nostalgia factor, then just to see how far Bette Midler and Sarah Jessica Parker have come. —Jenny Oliver
Watch it on Disney+, Amazon Prime, or YouTube.
The Love Witch
Anna Biller's cult classic follows an unlucky-in-love witch, Elaine, as she tries to find her soulmate through spells and magic, with deadly results. While some may argue the film is more style over substance, it examines modern gender roles through the archetype of the femme fatale. With a nod to campy 1960s horror films, the fashion and set design are seriously groovy, and the cinematography makes you feel like you're watching something shot in the '70s, even though it was only released in 2016. —Tilden Bissell
Watch it on Amazon Prime or Google Play.
The Shining
The Shining is unequivocally one of the scariest, most Kafkaesque movies in the horror genre. What better way to cap off a terrifying and surreal year than with a terrifying and surreal film? If you're not spending this Halloween ringing doorbells with your kids while trick or treating (we hope not) or at a costume house party (we really hope not) incorporate a screening of "The Shining" into your plans. The Stanley Kubrick classic shows Jack Nicholson and Shelley Duvall in their prime, with plenty of Easter eggs and hidden meanings to unpack. Not to mention sweeping, bird's eye shots of the Pacific Northwest and a soundtrack to get your pulse racing. —Maxine Wally
Watch it on Amazon Prime or YouTube.
Scream
For this list, I tried to come up with something more esoteric than Scream—but if I'm being honest with myself, the one film I come back to each October is this self-aware slasher from 1996. Wes Craven took a genre that had been so watered down in the decade before, satirized the tropes that defined it, incorporated one of Hollywood's most clever bait-and-switch casting schemes, and completely reinvented the horror film. The countless iterations and reinterpretations of Scream in the decades thereafter have never quite cast the same spell on me as the original. Scream is also one of the rare horror franchises with sequels that actually hit the mark, too (yes, I will be first in line to see Scream 5 if Covid isn't still keeping us from movie theaters in 2022). —Brooke Marine
Watch it on iTunes, YouTube, or Amazon Prime.
House of Wax
Not quite Halloween, and not quite Scary Movie, House of Wax is in a league of its own. I'm a big believer that there's nothing like B-list horror, and this time capsule from 2005 has it all. An absurdly creepy, (yet possibly talented?), wax figurine-making murderer? Every teen soap heartthrob from the early 2000s? (Chad Michael Murray and Jared Padalecki, I'm looking at you.) Paris Hilton's film debut featuring an iconic aquamarine Juicy tracksuit? This underrated slasher cult classic is the perfect Halloween movie for some completely ridiculous early Aughts camp; and I would like to personally thank House of Wax for never allowing me to look at Madame Tussauds the same way again. —Erin Meagher
Watch it on Google Play or Amazon Prime.
Related: 16 Iconic W Shoots for Halloween Costume Inspiration